Her daddy has taken the training wheels off of her bike, and Kelley is learning to ride a bike "again". She's actually doing pretty well and gets so excited when she can go any amount of distance riding and balancing. She does best when she comes down our driveway because it slants slightly downhill, keeping her bike moving, allowing her to balance better. She has been practicing for over an hour now. I was watching her from my window and would get excited for her when she'd pedal and balance. We need to get her another bike, however. This one is obviously too small for her....yeah, she needs another bike. She says she saw one at Walmart she wanted. Now for the finances to arrive...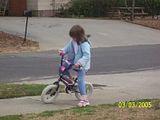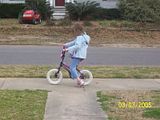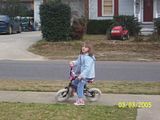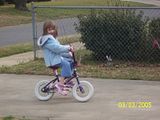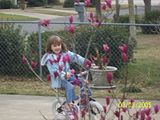 The Red Hat Society is coming to our little ole town. I've been noticing in the newspaper for several weeks that the ladies here want to form a chapter. My mom is a member up in Loganville, Georgia where she lives and she loves it. Remember the purple
boa/scarf
I crocheted for her at Christmas-time? Well, I've been excited to hear our town will have a society of Red Hat Ladies. Not for myself, because obviously I can't be a Red Hat Lady, but just for the ladies here in general because I know those Red Hat Ladies in other cities and states have so much fun. Today I was pleasantly surprised to read further news about our town's forming chapter...they are meeting next Friday, the 11th, at a local restaurant here in town. Not only them, however, but also those wanting to be a "Lady in Waiting"! That's those of us who have not reached that grand age of 50 yet, the minimum requirement for the Red Hat Ladies. We get to dress up, too, though and be like our predecessors by wearing the muted tones of their colors. They wear red hats and purple dresses...we get to wear pink hats and lavender dresses! I think I wanna be a Lady in Waiting! Hubby is off that Friday and he said that he could be home to watch the children while I go off and have some fun. Isn't he grand? (Yes, he is...) I was wondering, though, is there a minimum age for the Ladies in Waiting....could my two daughters become Ladies in Waiting? They LOVE to dress up...I will have to check into that. I think that would be really cute to bring my soon-to-be 7 year old and my soon-to-be 4 year old dressed up in pink hats and lavender dresses. Like Kelley says, Jessica would sure love it, because purple, and all shades of it, is her favorite color! Any Ladies in Waiting reading this?
And to close this post, I had to share the new look my TJ was sporting today. I call it ....
OREO Baby!