Well, that's how I felt. Here I was just minding my own business, crocheting along on a kitty-cat rug...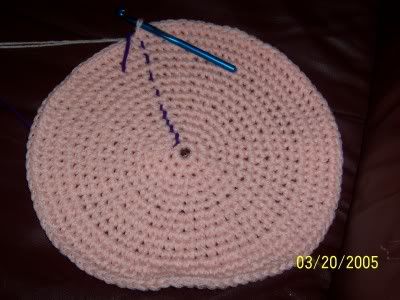 while reading over the new-to-me crochet board over at
LiveJournal
, and I run into
this
! Now, I recognized
Gina
who was being mentioned, and I should have known better than to go visit her blog! But I did. I put down my kitty rug and mosey'ed on over.
This girl is so wild! She will have you laughing no matter what mood you're in. She'll probably have your head spinning sooner or later while you try to keep up with her. I mean she flits from one thing to another and comes back and is off again, and I don't know where I'm at, what I've done, or what I agreed to by the time I'm done reading her!
She's been one of my favorite blogs to read ever since I discovered her. You can always find her over there in my right column of "Where I Roam" in case you come back later looking for this post for her URL and it's archived.
I don't know why I'm giving her a plug. I just felt like it! Like I said, she's so enthusiastic that she'll have you doing things before you realize what you're doing! So blame her for this shameless plug. I think she must have subliminal messaging on her blog....