Today was a fun mail day. I received a CAT PAC! What is a CAT PAC, you ask? Well, it's a surprise package that is mailed to you after winning in one of the hourly drawings on the Crochet List Crochet-A-Thon (CAT). CAT is held once a month about 10 months out of the year. We crochet for specific charities in which that month's CAT is being held. You can join Crochet List at YahooGroups and learn more!
Anyway, I won a CAT PAC for the first time. But then it was only my 2nd or 3rd time having even been in the CAT Chat. It was so fun! Here's what I found when I opened the box, which by the way, was donated by Emily Green. Thank you, Emily!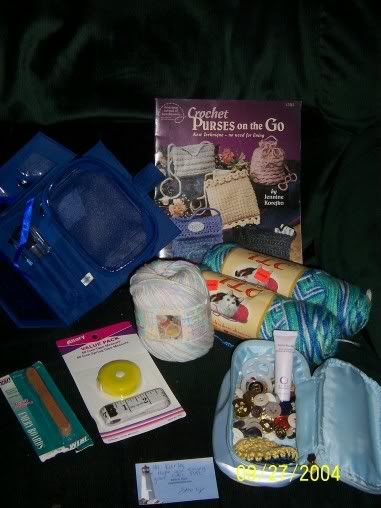 There were 2 skeins of TLC yarn; 1 skein of Lily Sugar n Cream cotton yarn; a crochet pattern book of purses to crochet; a package of emery boards; a package of tape measures, one fabric and one a roll-up format; a beautiful powder blue and beige makeup case full of various buttons, a butterfly decorative soap (which is not in the picture because my 3 year old promptly wanted to go to the bathroom so she could wash her hands with it!), a tube of Avon lotion, and what appears to be a round crocheted scrubby; and a wonderful royal blue make-up organizer that folds up like a little notebook with a snap closure when not in use. This has a mirror which folds flat when not in use (it's on the right of the organizer), makeup brushes in the center, and a see-through pouch to hold your makeup! What a neat organizer! I've never seen anything like this. I love it! Emily, your 'calling card' from VistaPrints was very familiar....DH and I created cards using that same lighthouse picture! The CAT PAC was a wonderful surprise.
On to other crochet news, I'm still working on the poncho I mentioned on Sunday. Seems I didn't have as much crochet time as I thought I might. It's a very easy poncho and works up quickly, but with 3 little ones, and the 3-month old having tummy troubles and crying so often (like now! did he read my mind or something?!), it's hard to find any time for crocheting. But I'll post as soon as I finish it. Gotta go now, though! TJ is awake and upset!