That should get a particular person's attention.
Seriously, Juli, if you are reading this, STOP!!! Do not proceed any further.
You just can't. You'll understand later. In fact, my blog is off limits to you until ... until Friday!
(Do ya'll really think she's going to go away and stop reading this? She's not the curious kind, is she? She does know how to do what she's told, doesn't she?)
Well, don't say I didn't warn you, Juli! You'll ruin a surprise if you don't go away! Now, shoo! Go knit something!
Now to give her another chance to leave, in case she is sticking around,
let me wish all Americans a Happy Independence Day!

Enjoy those delicious backyard barbeques, the cool, refreshing swimming pools , and especially the explosive, colorful fireworks! I hope we can go enjoy some fireworks tonight. I don't know who, if anyone, in this town or a neighboring town is having a display tonight. Surely there's a show somewhere. I'll let you know if we find something for our family to enjoy.
Ok, now that Mrs. Juli is gone, I just wanted to show ya'll what I did for her little Joshie. For all of you who don't know, he is turning 1 year old on Thursday, July 7th! So be sure to go visit her
blog
and convey your best wishes to her and him! On Thursday, though! Not today! You even have time to drop a card in the mail to him if you are so inclined. Wouldn't that surprise her to get lots of cards in the mail for Joshua's First Birthday???!!! Go ahead, do it!
Meanwhile, I felt like making one. No, I didn't crochet a card, or even knit one! More like scrapped it. Take a look! My first one!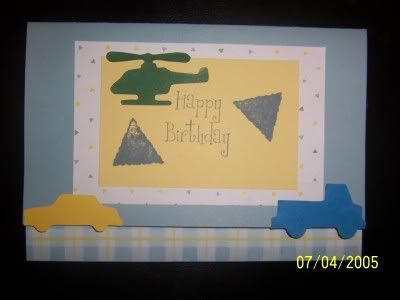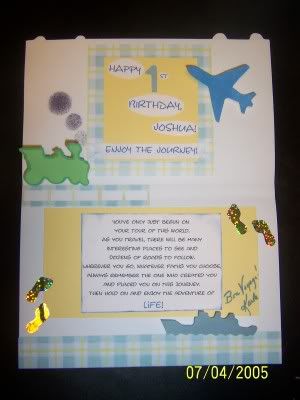 The theme is about how life is like a tour of the world and there are many roads from which to choose as you go along and many ways to travel. So I traced and cut out various vehicles to embellish the card. I just created it as I went along and didn't really have a plan. All I knew was that I wanted to use this vehicle template that I had, so I built the theme of the card around it. I definitely had to take a picture of my first handmade card. I thought it turned out nicely. What do you think?