My baby brother is graduating from Georgia Tech on Friday morning and getting married Saturday night! It's going to be a busy weekend, so I don't think I'll have much chance to post beyond now until next week.
Mom-Cheryl and I went to Jackie's (Bride-to-be) Bridal Shower on July 23rd which was held up in Adairsville. You have to go through Atlanta to get there from where we were!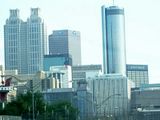 Now Adairsville is well known to me for a famous yarn warehouse that used to have an annual sale, all yarns for $1 per pound. I haven't been in it for 6 years! And I told myself I would not be tempted, and I would not go seek this warehouse out. I didn't even know if I would remember how to get to it anyway, so I felt safe from temptation. Well look at where I ended up....ACROSS THE STREET FROM IT!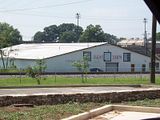 Seriously! The Bridal Shower was being held in a building on the town square across the street! Ack! Can you say TEMPTATION????
No, I didn't go inside. While I believe it may have been open when we arrived at noon for the shower, the door was closed when it was time for us to leave. I can't believe I was that close to YARN HEAVEN!
Here is a picture of the 1902 Stock Exchange which is where the shower was held.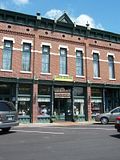 It's a very cute shop with all sorts of trinkets and cute stuff to buy. There is also a small tea cafe inside and we had a Shower and Tea! Very fun. Even hats to dress up in! (I knew I should have worn my pink hat from my Ladies in Waiting gatherings) Here is Mom-Cheryl and I, though my hair is no longer straight like this. I got a perm and now I've got curl again!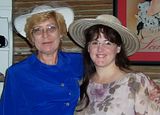 We had a really nice time.
Here is the Bride-to-be opening a present from me.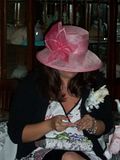 Don't you love the "mystery", not being able to see her face...I LOVED her hat!
Ironically, both I and her mother gave her the same photo album! I didn't even KNOW her mother before this gathering! And yet we had the same taste! Actually, my album was a shorter size and her album was taller, but they were the same cover with a cute cutout bridal cake center on the cover!! It was quite strange to have gotten the same album that she did. All-in-all, it was a nice Bridal Shower and Tea. I think we will all be happy when this is over, though! So much stress involved in getting married!
And some crochet...here is a drawstring purse I crocheted to use at the wedding. It's just something small as I didn't want to carry a big purse and fits my compact, lipstick, drivers license, cash, etc. just nicely. And the yarn is sooooo soft. I'll have to find the remainder of the skein so I can share with you what yarn it was.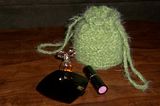 I've made my soon-to-be-sister-in-law a drawstring bag, too, only a little bigger and in Pink. The yarn I used for it was Paton's Divine (or was it Grace?) I'll have to look. But it's super soft, too. Just heavenly!
I'll leave you with a picture of my rose from my garden. It seems to fit the theme of this post, don't ya think?