Here is the latest postcard which I received through
Postcrossing
. Have
you
joined?
This is from Roxi in Canada, West Vancouver to be exact.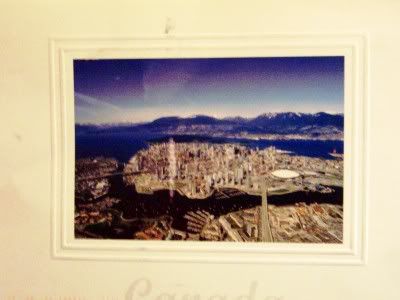 I love the aerial view! There's water everywhere. And yet the area looks very populated and you can even see the bridges that connect one piece of land to the other! Thank you, Roxi!
Thursday's mail also brought two new-to-me magazines which I ordered through
Interweave
.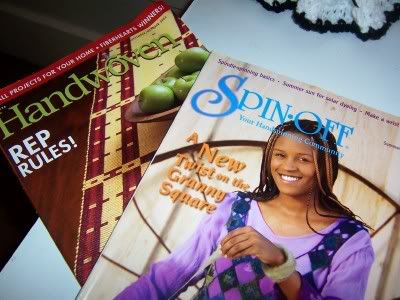 They are actually free issues with the option to continue the subscription. They're very interesting magazines, but then anything Interweave puts out is quality. I love their "
Piecework
" magazine along with the knitting (
Interweave Knits
), beading (
Beadwork
), and of late, crocheting (
Interweave Knits CROCHET
) magazines!
If you like to weave, you might enjoy "
Handwoven
". It was interesting to look through, but as I'm not into that yarn craft at the moment, I am not interested in continuing to receive this magazine.
The "
Spin-Off
" magazine was much more to my liking, as I'd like to learn to spin. I have not acquired any supplies yet, though..finances, you know. There is an interesting instructional article within its pages teaching the basics of "Spindle Spinning" which is where I wanted to start when I do begin to learn. Reading through the easy-to-understand instructions, I believe I could actually spin something if I had this tool! Very well written.
I must admit that the cover of this issue of Spin-Off caught my eye..."A New Twist on the Granny Square". It discusses crocheting the "time-honored motif" with active-twist handspun singles yarn. An interesting read.
This is a magazine to which I would more than likely subscribe.
But, I wait. I first want to get my hands on Interweave Knits' "
Crochet 2005
" issue....