For the
Crochetville Hat Exchange
beginning in January, I decided to make
this
very cute cloche. I'm using RH "Light & Lofty", however, instead of the Lion Brand "Homespun". I thought they were comparable.
BUT! My hat is just too big and floppy and doesn't have that 'tightness' that the cloche on the model seems to have. And I'm not even through with the pattern instructions! There's supposed to be at least another 2.5" to crochet!!! But look at it!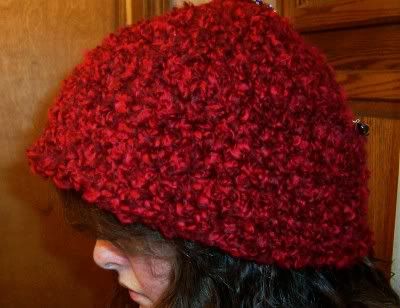 It'd be down to my nose or further if I added 2.5" more to it!!! I am using the "N" hook called for. However, upon checking my gauge...the pattern indicates that 10 sc should equal 4". But my 10 sc equal 6"!!! Ok, I'd say that would be why my hat is so big.
So now I'm debating whether to frog this project and start again with a smaller hook or salvage this hat by somehow threading a black ribbon through the stitches close to the forehead so that it can be gathered into a bow. Any suggestions?
Last year I tried
this
Lion Brand pattern for the Floppy Brim Hat. I did not substitute yarns and DID use Lion Brand Chenille as the pattern called for, but when the hat was completed, again I felt it was too big and floppy compared to the hat on the model! Perhaps I'm just not cut out to make hats... Oh well, I won't give up. I will try, try again!
About this big, floppy hat, I think I'll just make another hat. I can't bear to frog this one.....
Yet.