Lots I'd like to share of this and that. So if you have some time, sit back and enjoy a read with me.

We're anticipating our tax refund this week. Yes, we filed it as soon as we could! It will be nice to have a little breathing room until our finances get arranged. I am using a small amount of it to buy a mannequin. Are ya'll laughing? "What?!!!" you ask. Well, see, I've got hopes of participating in several craft shows this year and I thought a mannequin would be a great selling tool. I could dress her in my handmade goodies next to a table that would hold more colors of whatever she's wearing...hats, poncho, shawl, sweater, purses, scarves. Tommy suggested draping scarves over her extended arm. He's getting into the idea, too. My neighbor is wanting to start a little shop/boutique with some of her sewing creations in it, and she's asked me to put my things in there, too. She's really into the stuff I crochet saying "Girl! You could sell this!" That would be nice if we could start a little side business of our hobby. Anyway, a mannequin would like nice in there, too! So that's what I've been looking into this past week. Mostly on eBay. I can get one for around $100, less if I'm diligent.

Along those lines, I've been making some hats and scarves the last few nights. Not too many. But I found that I was just wasting a lot of time looking around on the internet last few nights when I could be working with my hands and CREATING something! You know what I mean? How many girls do you know who can surf and crochet at the same time? Guys, too, of course!

My neighbor, this same one, also took me to a little shop last week that she discovered. Cindi wants to get into heirloom sewing. She just welcomed her 2nd grandchild and 1st granddaughter to the world last Wednesday! She took me to this shop, Deb-bee's Creations, and bought a pattern and material, lace, and trim to make her granddaughter a dress. It'll be sweet. Deb-bee's even had a little bit of yarn. Actually, she had a little bit of everything. A small shop, but she seemed to be able to fit a little bit of every hobby in there that has to do with a needle and thread or hook and yarn. I bought two skeins of Patons Twister in a pink and black, and picked up some freebie patterns.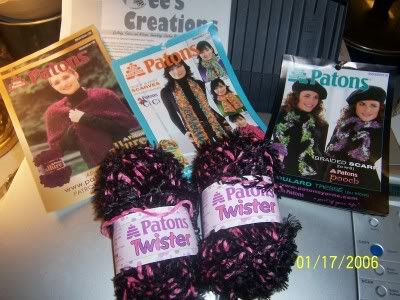 I'm going to have to go back and get some more....I love it! It's actually just a black eyelash yarn carried with a pink strand of chenille. I could probably create my own "Twister". I ended up making a simple scarf with it, and using the little extra to trim a hat. I think I'd like a little more Twister on the hat, though...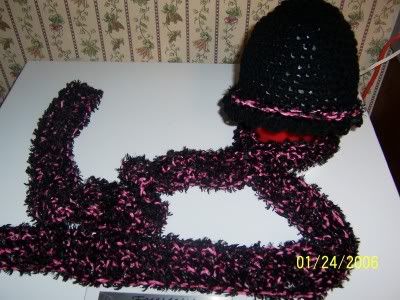 See - wouldn't this look so much prettier displayed on a mannequin???



As I was making it, I thought of my sister-in-law ... she'd love this pink and black. It might end up being a gift for her.

Last week, my CLBMX partner sent me a wonderful Winter Blues Secret Pal package! (BTW, it was Sandy Lewis! Thank you, Sandy!) Look at this huge tote she sent to me that is covered with butterflies!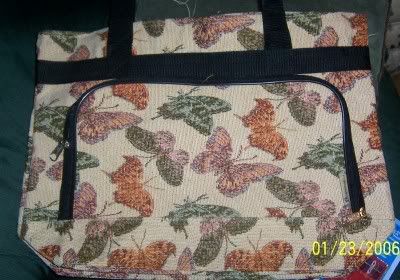 I love butterflies! She also sent some sewing related notions that made me chuckle. (It seems as if I'm forgetting something, as if she sent me 3 notions, but I can't remember what it was!)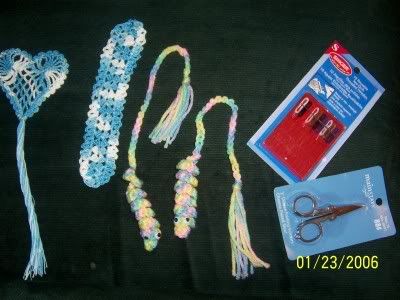 It was as if she could've read my mind and knew I went into Deb-bee's last week! I mean I'd like to learn how to do heirloom sewing, too! And it was so appropriate to see such non-topic related items in this crocheted related puffy! And for my actual bookmark, she sent 4! I couldn't believe it! How pretty! And look at those cute bookworms! I believe she got that pattern here. There isn't a picture at this site. I remember this Bookworm Bookmark was also in one of the Crochet publications ... I think it was Crochet World.

I snapped a shot of my daughter with her Wiggles hat and matching drawstring purse I had made for her months ago. Did I mention that she likes purple???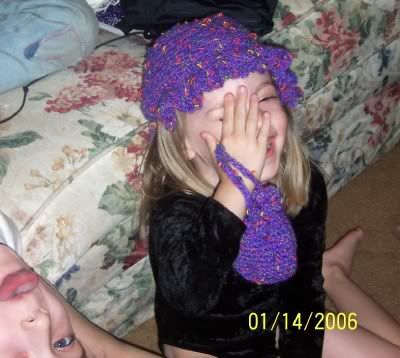 And here is she and TJ fingerpainting.



This was TJ's first experience fingerpainting. He tentatively stuck his finger in the wet paint at the beginning but in no time caught on to the art of fingerpainting!

I end this post with a GIVEAWAY! Just leave a comment on this post (about anything) and I will put your name in a drawing for this Print Studio CD.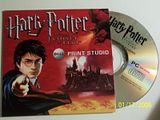 I'm not into Harry Potter but know some of you are. So if you want this totally free Print Studio CD, just leave a comment! I haven't used it at all. I got it as a freebie from Dell when I re-ordered some print cartridges. Though I won't be using it, maybe someone else can. I'll take comments until the end of this month, January 31st, then I'll draw a name February 1st! I hope someone can use this as I hate to throw things away.