Grab yourself a cup of tea, a cup of coffee, or whatever you sit down and relax with, and read a spell with me. I have lots to update with good news at the end!
STITCH MARKER SWAP
I received two sets of stitchmarkers last week! They are from a stitchmarker swap that Lain coordinated. Mine have been done for a couple of weeks, but I need to mail them! I will, I will!
Look at the ones I received! How beautiful these are!
Brandy made these beautiful Sheepie stitchmarkers. Aren't they just adorable? And she said she let her son help with the box. It's just too cute.
Thank you, Brandy!
And if you want your own set of Sheepie stitchmarkers, she sells them VERY reasonably priced. Check them out and other stitchmarkers and boxes here.
Lin sent me these such Spring-y stitchmarkers. I love the colors of the beads and the charms are so sweet. I love ladybugs, butterflies and flowers! Her stitchmarkers were enclosed in this cute tin.
Thank you, Lin!
CROCHETVILLE "SPRING PURSE" SWAP
Jackie sent me this absolutely stunning purse for the Spring Purse Swap over at Crochetville. I just absolutely LOVE it! Look at all the flowers! The satin lining is so professionally done. Awesome job, Jackie!
CROCHETVILLE "FLORAL FRENZY" SWAP
Jimmie Lu is EARLY in sending her flowers out for the Floral Frenzy Swap at Crochetville. Look at all the lovely flowers she sent to me! Jackie's purse and these flowers both arrived the same day and it was so wonderful getting so many flowers in the mail!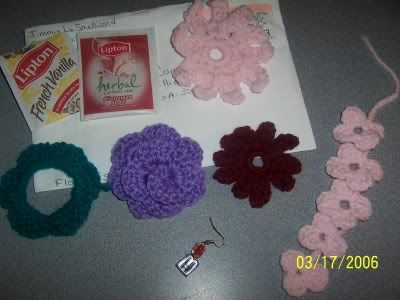 The green flower is a scrunchy, Jimmie Lu told me. I am treating the cascade of pink flowers like a bookmark because it's perfect as a bookmark. And the other three flowers are free-standing flowers so they can be made into anything I want them to be! Jimmie Lu also sent a stitchmarker that I just adore as the little charm is a "Ten Commandments" charm. If you're into the Ten Commandments, check this out. I find this quite interesting and history-in-the-making. You can also search the internet for "Ten Commandments Day" for even further information. Churches all across the country, of varying Christian denominations, want to make this an annual event. Interesting to say the least.
CROCHET LIST BOOKMARK EXCHANGE
Sandy Lewis sent me this wonderful package for the February Bookmark Exchange. We had a Mardi Gras theme and she made the cutest "Mask" bookmark and sent it with this wonderful afghan book! I couldn't believe it! I don't have this book and already have some WIMs from the book. She also traveled to Italy with her girls and sent me this Rosary which the Pope has blessed she said.
Theresa Gilmer is my partner for the March exchange. She sent me these goodies!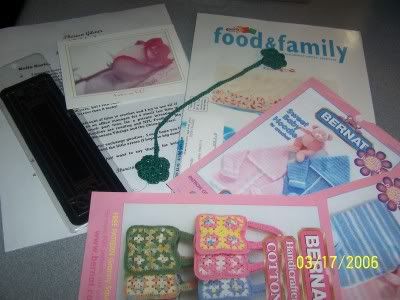 AND THE GOOD NEWS.....

I've got a job! Ok, so that's not big news to a lot of you, but for us, it's big news! With hubby's job situation being what it is, my getting a job will certainly help relieve the financial pressure even if just a little. I think hubby was excited when I came home yesterday and told him I had it! Ok. He WAS excited.

So what kind of job is it? It's helping type up appraisals for the local realty company! My neighbor was actually offered the job, but she said she was much too busy to take on that job and dropped my name instead. So she was told to tell me to come in and I did, and I even got the hourly price I asked for! In fact, he accepted my price so quickly ("that's fair for appraisals") that I instantly thought "Oh my goodness, I bet I undersold myself!" ha ha ha! Do we all do that? I mean, if the price we ask for is quickly accepted, do we immediately assume we could've asked for more? What I got a kick out of was how he phrased it "How much do you charge?" I expected more of a "The pay is such-and-such an hour". I guess I've never actually been ASKED how much I charge!

I went into the office today and basically looked over the shoulder of the appraiser and watched her input info and show me where and how to find info, etc. Tomorrow morning I go in and actually get some 'hands-on' experience by typing in the info myself! This is only supposed to be a "part-time" or "as needed" job, but by the looks of things today, I may be there awhile. They seem swamped with work. Maybe I can help make a dent in it! I'm excited! :)