Some of you may remember a post I made about 10 months ago where I was trying my hand at "recycled magazine paper envelopes". I got the idea when I read this. Well, I made some yesterday with my girls and my neighbor's 14 year old daughter who is visiting from Missouri! After having participated in 'Stickers With a Twist' over at Swap-bot, I signed up again when 'Stickers With a Twist 2' was initiated. And for this swap, I wanted to do something a little different with my stickers instead of sending them loose in the envelope in which I enclosed a note. So I made little pouches for them using pictures from magazine pages! Wanna see?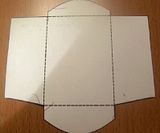 This is a template for a "Coin Envelope". The free template can be found here. I printed it out on cardstock and then cut around the template.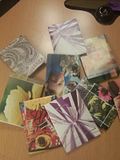 Here are the various envelopes I made. I simply flipped through an unwanted magazine, found pretty, interesting, or unique pictures, layed the template on the picture, tracing it onto the magazine page, then cut out the envelope I had traced on the page. After folding the sides, bottom and top, these are what they look like.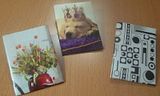 These are three envelopes which I chose from my pile of envelopes to send to my partners for the Sticker Swap. I backed them with cardstock to make them thicker, and used a glue stick to glue the bottom and sides down. Then I filled them with stickers!

Here they are with their various stickers! The amount of stickers required is 8, but I find I can't send just 8! So I sent about 20 to each partner. They all fit fine in these "coin envelopes" and also slide out easily when the envelope is turned upside down. I'll drop a note to my partners in a regular envelope and then slip one of these coin pouches filled with stickers in that envelope!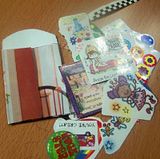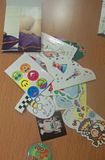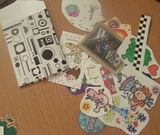 That was FUN! I love PAPER!!!