My goodness, what a professional job! Juli, you should be selling these babies! I absolutely ADORE this tote which I received in the mail today! And all the yarn, thread, bookmarks, notecards, hot chocolate ('cause my tea stash is HUGE!), coffee, free pattern sheets, sticky notes, inspirational book, and a BIRTHDAY CARD! Hey, I don't mind that the card is early (my birthday is January 25th) because I might just treat this whole month as my birthday! Yeah! That's an idea! Your card is the first I've received, (and might be the only, who knows) so it's stuck on my corkboard right in front of me on the wall. I can see it each time I sit here at the computer. :) Thank you so much, Juli! This was a wonderful birthday surprise/tote swap.
Here is the tote with all the goodies: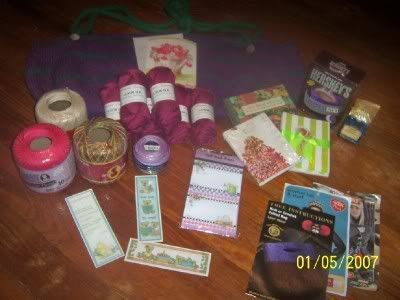 Here is the tote with all the goodies zipped up inside and sitting in front of my Jessica who is 5 years old...to give you some perspective as to how fantasticly ROOMY this tote is.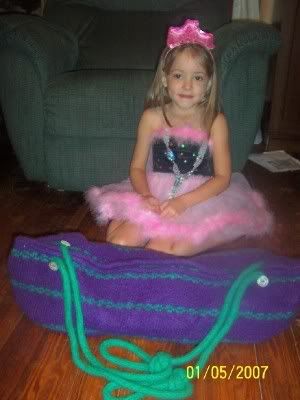 I was teasing Jessica that I could put HER in it, to which she looked at me with this slightly alarmed look on her face. "I'm just kidding, honey! You wouldn't even fit. But it is still HUGE!"
And speaking of Jessica, here is a cross-stitch project I completed for her a few nights ago.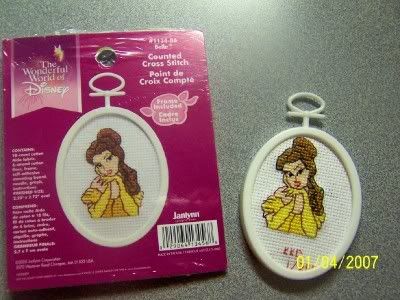 I did initially buy this little project with Jessica in mind because she loves the Disney Princesses, especially Belle. Of course the fact that it was clearance-priced for only $.50 was another reason I bought it.
I never let Jessica see this package, but she finally saw it last weekend and asked me if I'd make it for her. When I said "Yes", she'd ask me "Will you make it tonight?" Oh to have no concept of what free time mommies have available... But of course, I couldn't refuse her. I thought that this was a small project, I could have it done in a couple of hours.

8 hrs later,
I finally went to bed, and the project was not finished! However, I did finish it the following night. Not as graceful-looking as the picture on the package, but a close enough resemblance for Jessica!
Bet you didn't know I could cross-stitch, too!