My partner in the "Take Me For Who I Am" swap over at Swap-bot will be glad to finally get a card from me. I don't know what it was about this swap. I was so excited at the idea of it when I first noticed it, but then when it came to sitting down and DOING the card, something within me just froze! I couldn't start! I'd never had this happen and I didn't understand it or know what it was. It's passed now. I did get the card done, but am certainly LATE! I hope that she likes it. I also hope she doesn't see it on my blog before she sees it in her mailbox! ha ha!
I actually had fun making this card once I started. I love beads and buttons and scrapbooking and stickers, so this was all me. I love hearts, so I sewed heart beads in the corners of the card. I love butterflies, dragonflies, ladybugs, flowers, the color purple, the color pink, balloons and kites and LOVE. The Holly Hobby stickers remind me of the Holly Hobby doll I had as a little girl. The ladybugs represent me and my 3 children (who also love ladybugs). And the airplane skywriting my name represents the many plane rides I seemed to take as a youngster traveling back and forth between my divorced parents. I think there were only 3 plane rides...scarey! Plus the little airplane button just makes me think of my son TJ! And the royal blue glitter...one of my most favorite colors!
Then on the reverse, I used vellum to make a tag with the swap's name on it, vellum to journal about the front of the card and what everything meant, and then cut out and pasted a picture of my 3 children underneath it all. I actually like this card and wish I could keep it! I thought about my mom...I bet she'd love to get something like this in the mail.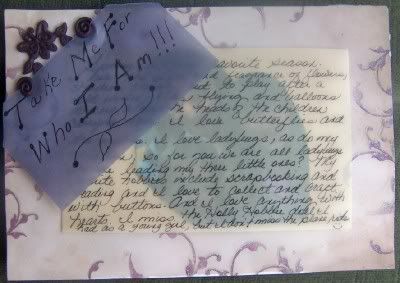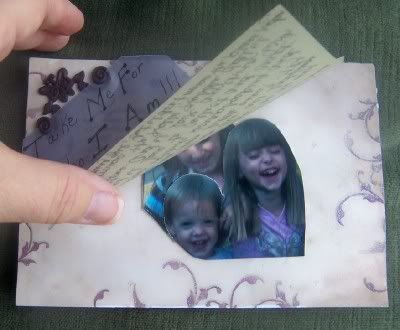 So what do you think?