Here it is, the end of Thursday, May 3rd. What ever happened to APRIL is all I want to know! Life in the Cardell household is still on "hold". We don't know what's going to happen from one day to the next, but then isn't that the way it is for everyone to some degree? I have a very PART-TIME "part-time" job at our local Real Estate office. Tomorrow I'll be filling in for the regular girl as she obviously needs to be somewhere else that day. I really don't know how much work will be available, but even a day or two a week is something.
Meanwhile, here at home, I've been doing this and that. I fell in love with a new papercraft...envelope books! Have you seen them? Well, I first heard of them over at Swap-bot. An "Envelope Book" swap had been created (
YES
, I joined it!) and a link on how to make them was included. It is a very easy craft. ANYONE can do it. It's merely pasting the envelope flap from one envelope to the back of the next. Then the fun part is embellishing them and decorating them! When making these to give to others, it's probably best not to over-embellish the Envelope Books, but to leave a little of the creative embellishing to the recipient so they can decorate them to their tastes and according to what they will be using the envelope book for.
Here is what I had a ball creating....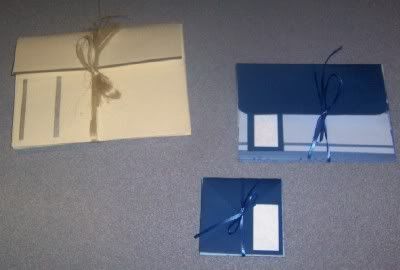 One of my partners likes the "natural" and environmental life, I believe, according to her profile at Swap-bot. Therefore, I had some pretty and environmentally-conscious stationery which I used to create this book. Then I slipped a little goody into each pocket of the book, keeping with the theme of natural things. And of course a note. I am hoping that she likes this.
And this one is for my other partner. She indicated that she liked pretty much any color, so I'm hoping she was serious...I made a blue Envelope Book for her from my scrapbook papers and then created a "mini" one, too! I haven't decided what to slip into the pages of these books, but certainly a little something will wind up in them.
But that's not all I have to show you! Here are the lovely Envelope Books that I received!
This was the first one that I received last week. I LOVED IT! How impressive! I think she used wallpaper scraps to create these envelopes. Then she printed off some quotes, some pretty words and ideas, and slipped one in each pocket. She also included a mini-book and a little note in a notecard. I was properly impressed with this first envelope book. As soon as I find the notecard that came with this, I can properly give you the name of my crafty Sender!
This second one arrived Wednesday all the way from Australia.
Thank you, Anthea!
What I loved about this one was the creative expression she used in re-purposing coloring book pages! That was cute. But what was even more impressive was the fact that she purposely chose pages that were all things that I liked! Yarn, green frogs, rainbows, flowers, and butterflies! Wow! I'm left asking myself "Did she find all these pages from the SAME coloring book or did she go on a hunt through several to find just the right pages?"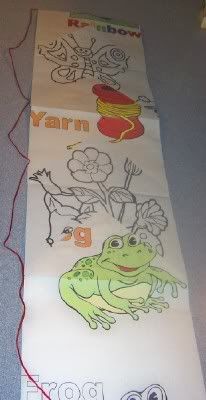 Isn't that just fun! Now if you want to try your hand at making Envelope Books, check out
this
site for a tutorial. Then
this
site will give you some examples of others' Envelope Books. And then of course, you can search the web for further sites of interest by simply searching for "Envelope Books".
HAVE FUN! ('Cause I know you just HAVE to try your hand at this, too, don't you?)