After a 6 to 8 week absence from one of my favorite sites,
Swap-bot
, I signed on again and joined a few swaps, mostly Valentine-themed. However, an interesting swap was
this one
where we blog stalk! Not really a "swap", but as I always love to find new and interesting blogs to enjoy, and I love to acquire new readers to my own blog, I thought it would be fun to join.
I used to keep up with my blog almost daily, but over the last couple of years, my presence here has been sorely lacking. I really did enjoy keeping this blog and want to update it almost daily, even now. So I will try!
For now, a new post for my blog stalkers to enjoy. Something present-day.
Today in Metter, Georgia it is rainy and cold. We are spending the day indoors, although Tommy has taken Jessica somewhere. Jessica has a little money burning a hole in her pocket, so I guess she is going to find someplace to spend it. Lately, we have been enjoying frequenting our local thrift store, Acts III. After we decluttered and donated much of our own excess to the thrift store, we have enjoyed wandering through the store ourselves! My favorite item to buy is, of course, anything yarn, thread, or paper related (stickers, notecards, scrapbooking supplies). But I'm also always on the lookout for those little hardshell suitcases, like children's-sized or a little larger, and also those old-fashioned "train cases", which don't have anything to do with trains, but were actually little suitcases used to hold women's makeup and toiletries and taken onto a train with themselves when traveling. I use these small suitcases for storage! Some hold some of my papercraft supplies and some hold yarn! I love 'em!
The thrift store is probably where Jessica is. Kelley is currently "spying" out our window with her binoculars and watching "Washington's General" on the History Channel. (Well, actually it has gone off and now a program about the search for the Holy Grail is on.) A "multi-tasker", as she likes to refer to herself. TJ and Gracie are in his room playing with toys. And I am trying to update this blog! :)
In response to the comments I've already received from some of my blog-stalkers, those crocheted leaves from my previous post are very easy to crochet. I think I found a pattern online for it, but I could probably replicate it by heart. I will look for the pattern and post it here later. Meanwhile, if you want to, do a search online with your favorite search engine for the words "free crocheted leaf pattern" or "free crocheted leaves pattern" or anything similar.
I did turn those leaves into a bookmark for a bookmark exchange partner last October. How do you like it?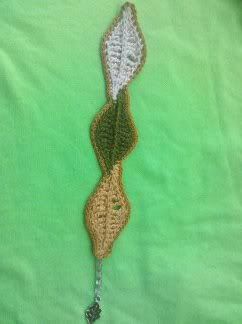 I added beads to the end of the bookmark, including a little leaf charm. I loved it! My partner, Jessie, did, too!
I love the Bookmark Exchange that I've been a member of for several years now. It's an exchange branching off the Yahoo Group "
Crochetlist
" and every month, except for a little break in December, we are assigned a partner to whom we send a crocheted bookmark. Knit and cross-stitched bookmarks have been known to be shared, too, but a crocheted one is required since it is after all a "crochet" exchange.
For last month's exchange, I made a crocheted "heart" bookmark, but I also included a cross-stitched one. I had been in the mood for a little cross-stitch project and this bookmark project was just the right size. I wish I had one of these for myself! But as most often happens, I give away my creations.