It's been almost 2 weeks since I posted, but it's been a busy time. The last time I posted was the day before my family and I left for a mini-vacation to Tybee Island, Georgia. We had a wonderful time!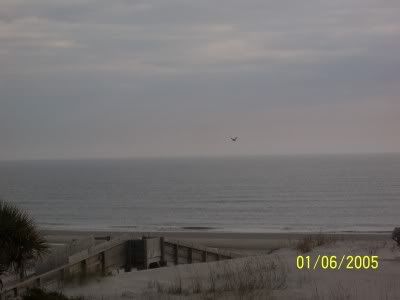 Did you notice the pelican flying on the horizon? Wow...cool shot!
The beach was a little cool (until the last day when we were returning home when it was very warm! Isn't that always how it is?) but it was still wonderful to be there. The girls found lots of sand dollars on the shore.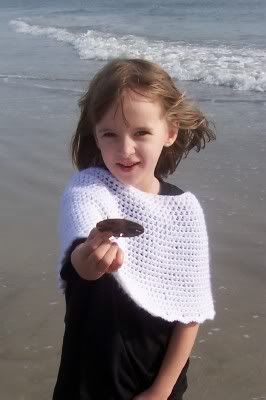 I'd never seen so many sand dollars! Many of them were 'fresh' which means you could see the 'animal' underneath. I'd never seen a LIVE sand dollar. Well, it wasn't really 'alive' as I understand that have 'hair' on their shells if they are. These shells were bare. It made me wonder just what IS a sand dollar? So I checked the internet and there are a lot of interesting sites. But here is a good
site
with pictures. Of course, there are other wonderful sites, but I couldn't look at them all... Basically, they are sea urchins! Wow! I never knew that.
We had a wonderful time at the beach. The weather was mild, it wasn't crowded, we saw wonderful sights (like the daring parasailers! Normally, their board would stay in the water, but we saw the wind pick one man up into the air!),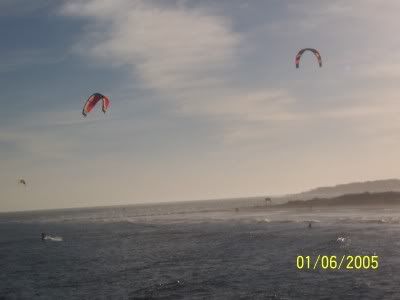 and the children laughed and played. Kelley was always to be found IN the water, while Jessica was always the one running AWAY from the water! Oh, she let the water tickle her feet occasionally, but she ran mostly. :-)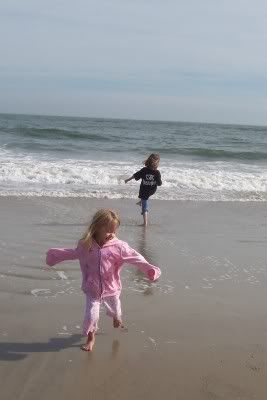 I got a nice shot of them sitting on a small dune. Jessie didn't want to stay for her picture and was just about to leave....quick shot! Oh, and that 'wrap' Jessie is wearing is a poncho/shawl that
Juli
made for me last month when she was my Secret Pal. It has crocheted buttons that tie on and are therefore, removeable! So then it can either be a poncho or a shawl. Very cool. I'm still hoping to find the pattern online.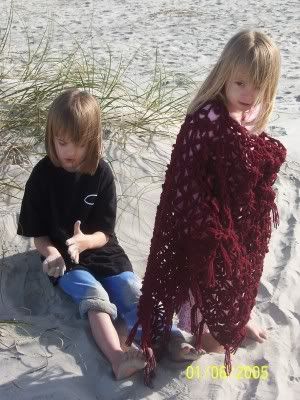 And then as we were leaving, I turned around and noticed all these seagulls were following us! I don't know why as we didn't have bread or food. We hadn't been feeding them. But we went up an empty ramp and all of the sudden they had gathered behind us on the beach and on the rails of the ramp! It was a little spooky.... See 'em looking at us?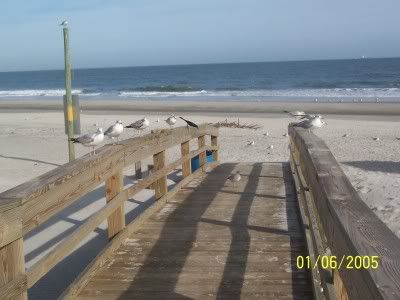 We had a really nice time. On the way back home, we stopped in Savannah to discover a new-to-the-area yarn shop! I had heard about it before we'd left home, and it was definitely on our "to see" list! But that is another story....