Hey, everybody! It seems like I've been away from my blog forever, but it's only Sunday and I last posted on Friday. I have been enjoying reading some other blogs this weekend, and adding a few to the right column over there of "Where I Roam".
Ok, I'm going to start this with a giveaway. I have these 4 coasters (yeah, yeah, there's only 3 pictured but there's a 4th one hiding around here somewhere...let me ask one of the children where they hid it!) that are crocheted in cotton. There are two red centers and two blue centers in this set of 4. I think they're cute, but I have no place for them anymore, and I WON'T throw away crocheted pieces, even if I can't use them anymore.
So....does anyone want them? I'll give 'em to ya if you'll give 'em a good home.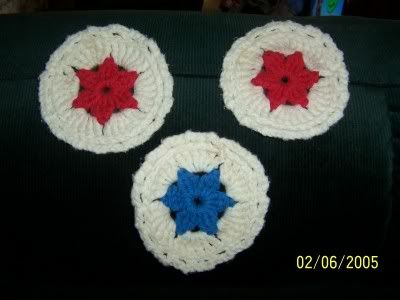 Here is a Heart Fridgie I crocheted last night and added the eyes and bow just a moment ago. Isn't she sweet? I'm not giving her away...well, actually I am, but I already have someone(s) in mind. They're really simple and can be whipped up in no time! Alternatively, she can be made into a pin.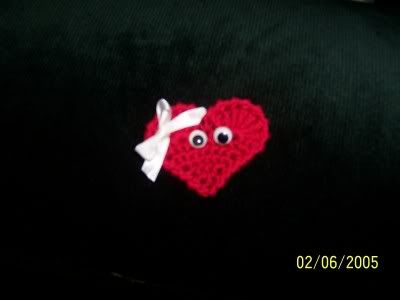 Here are some more of the fridgie hearts that need embellishments. And a Country Heart Coaster.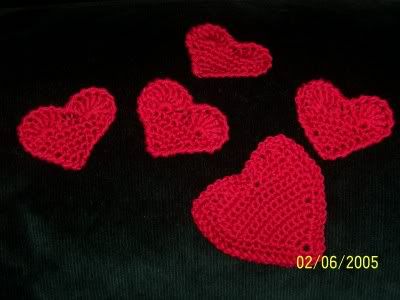 And finally, here is the February's Valentine doily finished. I actually ended it two rounds above the center ring of hearts because I was running out of thread and didn't know if I'd have enough to complete the doily. There are a few more rounds and hearts encircling the edge in the original pattern. I like how this turned out, however.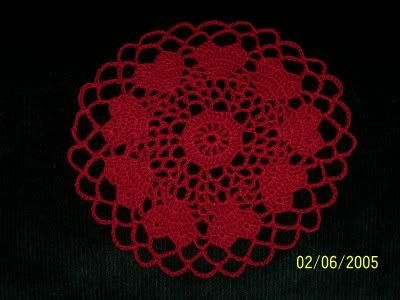 And I think that's all to show right now. Now onto another doily I saw...I think it was in Annie's Attic's magazine (what was the name of it?) It's square, but with hearts, too! So until next time....