Well, today there is sunshine! We are HAPPY!!! Our weather has been cold, gray, and rainy. But today that beautiful warm sun is smiling down on us! Thank you, Lord!
February is a short month, and I have a few projects I must complete for various swaps and stuff. I can't post everything here;in case some Secret Pal is reading...and she probably is. But then if she figures me out before the Revealing month, then so be it! More fun for her, huh? :) I actually have two Secret Pals from two different groups....that can get interesting.
Below is a doily I'm working on. The pattern is Denise Augostine's "
February's Valentine
". The pattern is worked up in pink at her website, but I've got this red right here, having been using it for some bookmarks, so guess what color my doily is going to be? It really is an easy pattern and is quickly working up. But I can't type and crochet at the same time (YET!) so I had to put it down once again.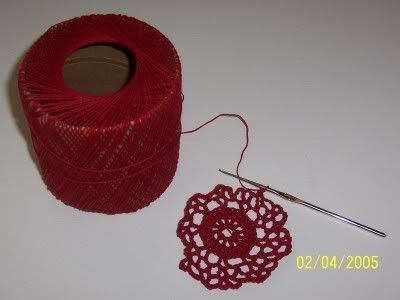 Below are some bookmarks I made in the past three days. I made them up while reading some crochet groups' mail online. Let's see, the ones in the center and right are Lee Matthewson's
Heart Bookmark
". The one in the middle was done with a cotton called Mahopac Yarn. It is made in Italy by Filofin and is a thinner cotton than Peaches N' Cream. I altered Lee's pattern just a tad when making these. The one on the right was made with #10 thread, that same stuff you saw above! There's something wrong with it, though, and I can't put my finger on it. The right side of the heart looks more generous than the left. I don't think I put more stitches on it, but I must have. I'll have to figure that one out.
The bookmark on the left is also crocheted with the red #10 thread. My bookmark was inspired by Julie Bolduc's "
Heart Bookmark
". However, again, mine is different though very similar. I did the edging and tassel different and even added a button to the end! I had this in mind for my Bookmark Exchange partner this month... Should I give it to her or keep it for myself? ha!ha! Don't worry, I'm gonna give it to her. I get so many unique and interesting bookmarks from that exchange, I won't miss this one!