My order from KnitPicks arrived Saturday! I was excited. Enclosed were all the items I ordered, a pattern book clearanced for $1.99; 3 free patterns (2 copies each); a Portapocket, which is basically a small tote bag you hold on your wrist with your ball of yarn or thread and a few supplies in the pockets (I thought this would be great to use while walking on my treadmill...I want to walk and crochet at the same time!); a cute tin of hand cream (Tommy says the 'cream' inside reminds him of Breel Cream - is that the way to spell it? That 'grease' men would put in their hair in the good ole days); and the Sheep Tape Measure. The sheep tape measure is bigger than I thought it would be but it looks better in the picture. I thought the "fur" was kinda dingy when I first layed eyes on it, but maybe they wanted a realistic look and feel to this sheep, like the wool on sheep before they're shorn. I keep looking at that sheep tape measure and wonder "can I crochet this?" Ha Ha! Ever the crocheter! (And btw, yes, I could crochet this....keep watching...)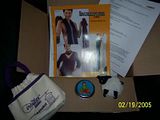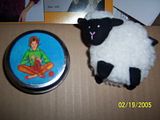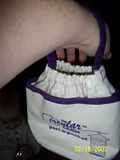 Do you see TJ in the bottom left corner of that last picture above? He fell in love with the shiney round tin and is examining it after slobbering on it for a minute.




Following is a bookmark I'm working on tonight (or rather, this morning). It's from the Annie's Attic Leaflet "Special Day Bookmarks" and is titled "Bridal". It's actually shown on the cover in the bottom right corner. In the leaflet , the bookmark is actually crocheted in white thread with pearl beads, but I want to crochet it in burgandy and use one of my bead angels as a charm at the end of it. This is the first time I've done this pattern, but I can tell that I will be making more of these. It's simply elegant and has lots of "accessory" potential. Be sure to keep a look out for the finished product.