This is a test. This is only a test. If this had been a real emergency... oh, sorry!
Thank you,
Kari
, for the instructions on how to make clickable thumbnail photos on my blog. Now let me see if I did it right! :)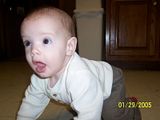 Yippee! The preview indicates it works! Thank you so much, Kari!
BTW, that's my little boy, TJ! He's growing too fast! He began crawling last month and pulling himself up and he stands alot now. Soon he'll be WALKING! Aww...my baby...he's growing up...bittersweet....