I'm working on a purse from a pattern by Lion Brand. It is called Lion Chenille Red Envelope Bag, but after trying to work it up in the chenille, and frogging it several times, which anyone who's worked with chenille knows you can't do too often, I put the chenille away.
After a night or two, I came back to the pattern and tried another yarn. I have no idea what this yarn is. Perhaps someone can help me. It's actually two strands twisted together, a worsted? and a #3 or #5 thread. I bought this at the R&M Warehouse Sale back in '99 and it is on a cone and was wrapped in plastic. All that was written on the plastic was $2.00 lb and "Spua? Filomet" I can't tell what these 2 or 3 letters after the "Sp" are. Perhaps "ua", but might not be. So does anyone know what this is?
I bought it simply because I liked the looks of it. Working it up, it is stiff. I'd love to hear your ideas about what this is.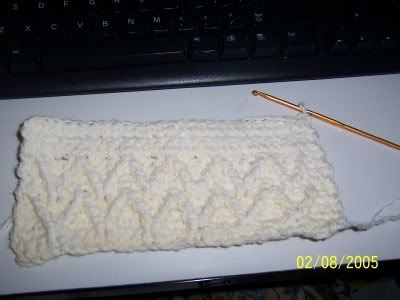 Anyway, I like how this purse is working up. The pattern really is simple and now that I can do the pattern, I will make another one of these in the chenille. I just couldn't see my "ch 1" 4 rows down with the chenille. But familiarity with the pattern will certainly help when I try again. Oh, and I looked online at Lion Brand's website, but didn't see the pattern there as a freebie.
I got the pattern from a little booklet I found at Walmart titled "On the Go With Lion Chenille". It was only $.97 and there are 5 projects in it.
The weather outside today was so BEAUTIFUL!

Sunny skies and temps in the low 70's. After having cold weather for weeks, it's nice to see this Spring-like weather. The downside to this good news is that the temps are on the slide back down for the rest of the week.

But for today, I raised the windows in the house and let the warm breeze blow through. I love the smell of fresh air gently blowing through the house....

Bye for now!