If my dear Secret Pal (the gal I send goodies to) is reading this, well then my identity will be revealed and I shall not be a secret anymore....but you know, I'm beginning to think that this gal doesn't even read my blog! Can you imagine that?! Actually, she's a very busy lady these days...
Today my family and I walked uptown (2 blocks - and some of you reading this probably have no idea what a "block" is or how far that is, do you? C'mon now, 'fess up!) to our small-town annual Spring Festival. It's called Another Bloomin' Festival and its full of booths offering foods, crafts, and all sorts of goodies. Here is the view of our two girls walking ahead of us. Kelley, always the leader, is way up there and Jessie is pushing her little brother in the stroller. I made Jessie's hat and poncho that she is wearing, but Kelley's blue poncho was a Walmart purchase.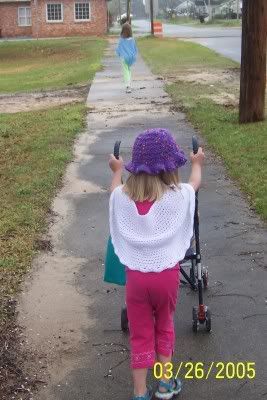 Ya'll will have to forgive the messy street. A car ran off the road last week and hit the fire hydrant at the corner and there was water and mud running everywhere. They've repaired the hydrant (actually, I don't see the hydrant in that picture! Did they remove it?) but I'm surprised they haven't fixed the mud problem. Usually one can lay hay or straw down over the mud to keep it in place until the grass grows back. But as it is, nothing is covering it and everytime it rains (like it's doing now) the mud just runs down the sidewalk and down our street. It's a mess.
Here are the girls after having turned off our sidewalk onto the sidewalk along the main road. Look busy enough?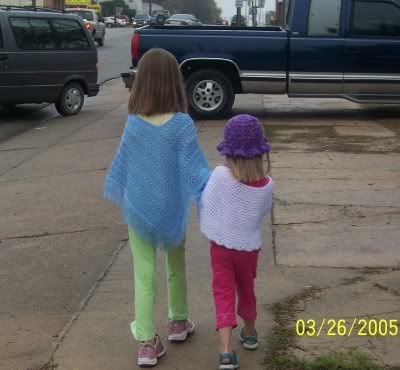 We had a really fun time and there were a few more people offering crocheted items this year than last year. I always check that you know. The older lady who comes every year was there again this year. She offers dishcloths, crocheted-toppers on handtowels, small afghans, and butterfly magnets. We also found a table that had a few crocheted items on it along with other non-crocheted stuff. She had a little stuffed lamb wearing a crocheted hat and wrapped in a crocheted blanket. When I asked her her price, she said it was $5.50 and my mouth dropped open and I actually said "Is that all?" So in support of my fellow crocheters, I bought the lamb with matching pink blanket, and also bought a yellow bear with hat and blanket that was bigger than the pink set for $10. Before we left the festival that afternoon, I also stopped by the little old lady's booth and bought 3 dishcloths. She only had a price of $1.50/ea. on them. Sure I could've made them myself, but we have to support the efforts of our fellow crocheters. These will make cute gifts to include in the various puffies I send out anyway. The dishcloths, that is! My girls won't give up those little stuffed animals with hat and blankies. They're sleeping with them as I type!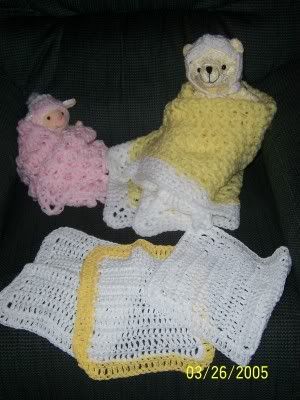 You know, I keep thinking that next year I oughta participate and have a booth. There were no scarves or hats or purses being offered. I could have a booth, make those things, and also bookmarks, fridgie magnets, and other small items that haven't been offered yet. Tommy says I'll have to start making some things for next year. He's so supportive. What a good hubby I have. Here's to you, honey!
(He reads my blog sometimes. He learns a lot about me, I bet!)