(I had this post all typed up and it went off into La-La Land....another example of how my Monday has been. So here it is re-typed, though not in its original words.)
The good news is that I haven't experienced a Monday like this in YEARS! The bad news is that today has been a crazy Monday. Anything that could go wrong, did go wrong! Not big major things, but those little things. One after another. It got to where every moment, one behind the other, something was going wrong. It was such a rapid-fire succession, that I finally thought "We are definitely under spiritual attack." So finally, I stopped what I was doing, stopped cleaning up the latest disaster, and just stopped and prayed. And slowly but surely, those moments that were before being filled up with one mishap after another, was slowly expanding into no mishaps and peace and calm just filling up the house. It was so obvious, it was amazing. I'm always amazed when my prayers are answered. I don't know why. I'm sure like we long to give good things to our children, and see them happy, God longs to do the same for us.
But thankfully, those moments have passed and we are all enjoying some peacefulness. I finally got to sit down with the mail that arrived today and found this wonderful issue of Creative Knitting. This was a free "preview" issue I ordered from
here
.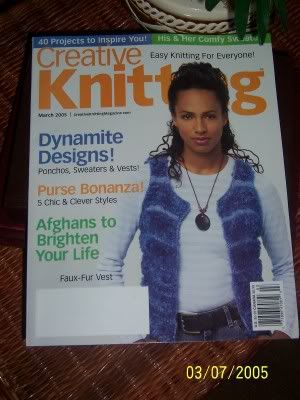 I had to write "Please Cancel" on the bill, however, because I cannot afford it at this time. But if I could, I would subscribe, because I am impressed with this magazine. The quality is very nice, plus it has a variety of skill level projects represented inside, from the beginning knitter to the more experienced knitter. The variety of project size is nice, too. There are small items to knit from sachets and socks, all the way up to vests, ponchos, sweaters, and afghans. There is a pattern for a little girl's dress and her doll's matching outfit, too. Another detail that I found useful is the Pictorial Index in the back of the magazine, illustrating every project that is in this magazine at a glance. I'm used to seeing that with the digest-sized magazines, but have not noticed it in a full-size magazine. Very useful.
So I'm going to go sit down and relax further with this magazine. If you haven't seen it yet, get yourself a
free issue
, too, and see if you'd like to subscribe!