The weather has been Spring-like for several days now and I was given a smile today!
My first daffodils!


One large one and 3 miniature daffodils! I'm not one to cut them as soon as I see them. I guess because I have so few flowers that I wouldn't have any if I always cut them to bring inside. But hey. Today is today and I will have flowers in my home today. Who knows if I'll be here tomorrow to enjoy them outside, you know? We all should truly live each day to its fullest. Not put off simple joys that we could enjoy today. So I cut them and brought 'em in to enjoy. :)
And though the mail is being stingy with my Crochetville Secret Pal gift for February, at least!, I was happy to see my latest book shipment from
Zooba
in the mail today!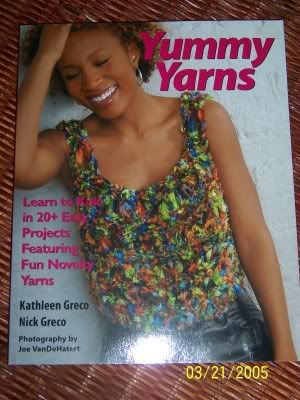 I love the title! The book is great, too! It's very colorful and shows a variety of the novelty, or what I call "fun", yarns out there now (Section 1), along with some knitting instructions, techniques, and stitch patterns (Section 2), and then 20+ projects to knit(Section 3)! The cover price is $19.95 but I bought it from Zooba for $9.95 and that includes shipping! It truly is a yummy book.
Have you checked out Zooba yet? All books only $9.95 and free shipping! It's basically an automatic book shipment club. You build your Book List of the books you'd like shipped to you, put them in priority order, and every month, they send the book at the top of your list, or the next book, if the first happens to be out-of-stock at the moment. You can order any of the books at any time, also for only $9.95, and no additional shipping costs. But each month, they automatically ship you a book. I believe there's also an every other month shipment arrangement and it's about $12.95 per book. Don't quote me on that, though. Check it out over at
Zooba
. This is my 3rd shipment in 3 months (well, actually 4 if you include the one I just ordered for
Julie
last night ...
SURPRISE!!!
) and I've been quite happy with the books and the monthly arrangement.
Now, if you read this, Julie, you'll have to tell me how you like the book when you receive it. I'm not telling you which one it is,

but it was on your Amazon wishlist. I hope you haven't gotten it already. If you already have it, just re-gift it back to me, 'cause it's also been on my list of wanted books, too! I have it set up to ship from Zooba in the future. :) SURPRISE!