Yesterday a package came in the mail from
Kimberly
for the Crochetville
Spring Blossoms Yarn Swap
! Wow! Thank you, Kimberly! This may be your first swap, but you did really well! I love all the goodies you sent. I absolutely ADORE Caron Simply Soft yarns and I've never had the Bernat Soft Boucle! It looks yummy! And how thoughtful... stitch markers, even one with my name spelled out! You're the best! Thank you so much! Oh, and that is my daughter Kelley's finger in the picture...she just has to be in the picture in some form or fashion!

Yesterday, I spent a lot of time winding off some of my own stash of yarn. I really love having a yarn winder and would encourage others to get one. Save up for it if your finances are tight! It's a worthy investment! It makes sharing your yarn easy and storing your yarn neater.
Here is my ball winder...isn't she pretty?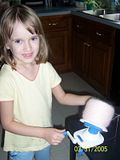 She is winding up some beautiful pink mohair-type thread/yarn which I'd bought at the
R&M Yarn
Sale during one of their annual warehouse sales (though they will not be having them anymore, I understand). I call this stuff "cotton candy" myself. It's so soft and dreamy! I had crocheted a beautiful baby blanket with it, but after working it up decided the fuzziness really wasn't appropriate to give to a baby. I wouldn't want the 'hairs' coming off and getting lost in an eye or being swallowed or just being irritating. So now I have this baby blanket that isn't being used. I've often thought to donate it to the
Garden of Angels
organization, and I don't know why I haven't yet. I should. That way, my beautiful soft baby blanket will fulfill it's mission to lovingly wrap a baby girl...
Terri has died, as I'm sure many of you already know. I had a small post typed up yesterday morning, and 3 times had it eaten up by Blogger (ironically, when I published this post, two of those previous posts from yesterday morning posted at the same time - strange). It never did get posted. Basically, I wrote that I am saddened that she died the way she did (i.e. starved to death), but that I am so thankful that she is at rest now and is not suffering anymore in this perverse and backward world that would do something wrong (starve a helpless human being to death) and call it right. I've posted a button in my right column there and plan to keep it there though she is not with us anymore. There is a lot of information there about her situation and facts vs what news "journalists" reported about her. I believe it is important to be aware of what this country just allowed to happen to a helpless patient so that we prevent this from ever happening again. Criminals given the death sentence are executed more humanely than Terri was. DOGS ARE PUT DOWN MORE HUMANELY IN VETERINARY CARE!
Remember Terri. Read the facts about her on a non-mainstream media site (
Terrisfight.org
). And when given the opportunity, take action so that no other human being is ever purposely starved to death again. It could be ANY of us next time.
"I call heaven and earth to record this day against you, that I have set before you life and death, blessing and cursing; therefore, choose life, that both you and your seed may live." Deuteronomy 30:19