The past week has brought some wonderful mail, mostly from Crochetville!
Last Monday, April 25, Fiona sent a wonderful puffy for the Crochetville Scarf Swap we're participating in. She didn't send a scarf, though....she sent TWO beautiful creations plus other wonderful items that show her creativity and thoughtfulness!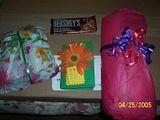 Here are the scarfs she sent (click on the photo to see the details):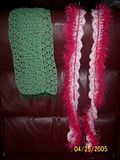 The first one is a lovely sage green and has beads crocheted throughout the pattern and strung on each end of the scarf. The pink one has several types of yarn crocheted throughout and reflects Fiona's interest in "scrumbling". This came on the day of my Red Hat Ladies Society gathering, and I was able to wear this long beautiful scarf with my pink hat to the fun! I received several compliments on it, too!
Keeping with the theme of the Red Hat Ladies Society, Fiona also made this very adorable crochet hook!
All of the things she enclosed were lovely and beautiful, but for some reason I haven't put my finger on yet, I REALLY enjoyed the little card she created.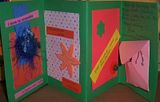 I suppose it's just the thoughtfulness and simplicity yet ... I don't know! I just know that I loved this card. She had a swatch of her scrumble in it with the words "I love to scrumble"..."If life hands you yarn...crochet!", and other cute sayings. And at the end of the card was a little envelope with a surprise tucked inside...
beaded stitch markers!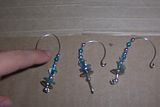 It was really just a lovely crochet-themed accordian card that really had me smiling. I know that it took some time to create, and I really just appreciate it. Thank you, Fiona!
Then yesterday, the Crochetville
Dishcloth Swap
brought a lovely puffy from
Deneen
! She sent THREE lovely dishcloths and two book thongs! Wow! What a wonderful surprise. I also loved the handwritten notecard enclosed. Thank you, Deneen!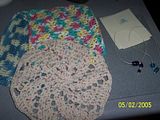 And lastly, I received this unexpected free gift from
Debbie Macomber
, author of "The Shop on Blossom Street" and its sequel "A Good Yarn"! It's a gift for being on her mailing list, I believe. I knew something would be coming, but didn't know what. And it has been WEEKS (months?) since I signed up so this was a cool surprise. It's a zippered pouch with "A Good Yarn" pictured on the outside. Inside was a newsletter and a bookmark depicting her newest book "A Good Yarn". This was just icing on the cake of a great mail day!