Ok, it's that time again. Being one that likes to not have too many irons in the fire I only have two items to report. Actually one. I'm working on
Chelle's
Halter Pattern, which was wonderfully RAOK'd to me. I need to get back on that project.
Other than that, for the past two days, and probably future days, I have been making little thread flowers.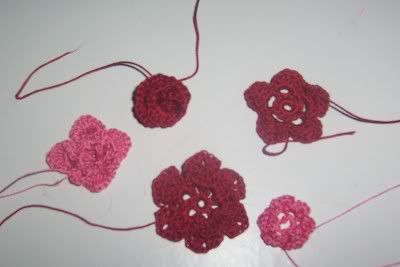 I have no plans for them at the moment. I just felt like doing some. Well, honestly, the CL Bookmark Exchange has been in the back of my mind while I work these up as we have a theme of "flowered bookmarks, butterfly bookmarks, ladybug bookmarks, sun-shaped bookmarks". I have an idea brewing in my head...I'll let you know what I come up with. 'Cause we also have a Bookmark Swap coming up over at Crochetville! Doesn't that start in JUNE,
Julie
? Ok, I won't bug you about it. I know that you are a busy lady! (hurry hurry hurry)
I wouldn't mind some ladybug patterns if anyone knows of any.... I LOVE Ladybugs!