Look at this cute fridgie I made! What possibilities!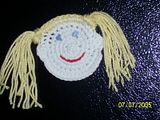 My inspiration was this "
Little Girl Fridgie
" though I did change the hair and face. I can see making these in all sorts of skin tones and different hair and eye colors, and even boy faces! She is actually going to be with someone else at Crochetville.
Here are 3 leaflets I won off eBay and they just arrived today! Can you possibly guess why I bought these? Yep! The
Crochetville Doily Exchange
! But goodness so many choices! Two of these are Patricia Kristoffersen books! Beautiful!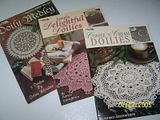 And finally, I supported a fellow crocheter today! I was actually redeeming some "Free Pizza" coupons the girls received after the Summer Reading Program at the library today, and I saw this doll sitting on the counter at the pizza place. I asked the lady working there if she crocheted and she explained that her sister did. I asked if her sister was selling the doll and when she replied yes, I asked "how much?" Now in my mind I had a figure of $20 so when she said $15, and after a little thought, loving ladybugs as much as I do, I decided to buy her! My daughter Jessica loves the doll and wants to play with her, but she was being really careful about holding the doll in her lap. I explained to both girls that this doll is not one to "play" with and that she was called a "bed doll" and explained why (the pillow and how she sits on one's bed). She doesn't really "go" with any of our room decors, but I couldn't pass up the ladybugs! (lol)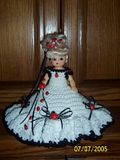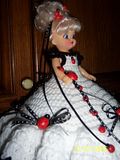 For those wondering about the CNN story, with the London bombings it will be near impossible to air the program tonight. She will let us know when they air it, however, so I'll let my readers know when I know! Thanks for reading!