Ok, I give her an A+ for enthusiasm!

My 7-year-old daughter Kelley, who just learned to crochet a chain almost 3 weeks ago,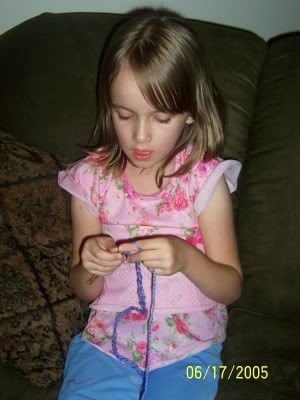 and has been practicing her single-crochet stitch since Monday, asks me last night "will you teach me how to knit tomorrow?" Oh my! OK!

I don't want to squelch any enthusiasm on her part and am proud of her for wanting to try new things, but am I a good enough teacher? There is no way that I can boast that my hours knitting comes close to my hours crocheting. And with what size needles should I start a 7-year-old?
Any suggestions?
Well, let me get out the books so I can remember how to cast-on...
What a teacher I'm going to make....