Whew!
We are home! Actually we got home Sunday around 3 pm, but it's only now that I've had a moment to sit down and get my thoughts together of this momentous past weekend! There is a new Georgia Tech graduate in our family (following after his mom and dad!) and that same graduate is now a Newlywed!
Here are some pictures!
THE GRADUATION - Friday Morning
(all pictures clickable)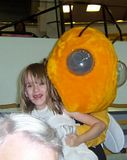 Georgia Tech's "Buzz" taking Kelley!
Kelley and Jessica from our vantage point.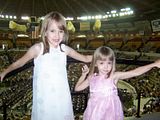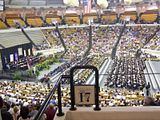 2005 Georgia Tech Graduates!
The Balloon Drop! Congratulations, Graduates!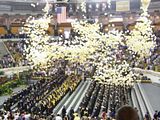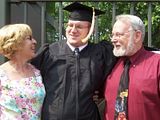 Our graduate! Congratulations, Paul!
THE WEDDING REHEARSAL & GRADUATION PARTY/REHEARSAL DINNER - Friday Evening
Are ya'll ready...???
The Graduation Party/Rehearsal Party
THE WEDDING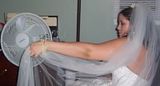 An evening wedding but still a hot one! Cooling off before the wedding...
The Wedding has begun!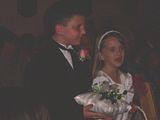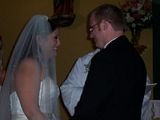 Getting married....and THE Kiss!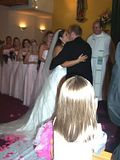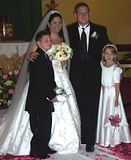 Paul & Jackie Kelley and nephew Joshua, and niece Kelley.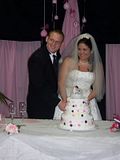 Cutting the cake...
Will they....?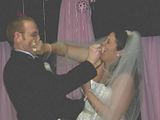 Ack! They will!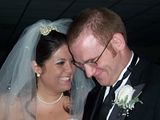 Best Man was telling us all of a time when they all realized that Paul was in love with Jackie....I think Paul would have preferred to keep the circumstances private which now the Best Man were making us all aware of! Poor Paul... we all had a good laugh, though.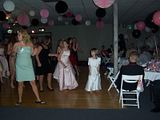 Kelley had such a good time! She didn't hesitate at all to get on the dance floor - her first time! Hours later we had to peel her off, to her disappointment, so we could go back to the hotel...it was midnight for goodness' sake! Haha! It was so good to see her have a good time.
CROCHETVILLE SUMMER SECRET PAL - Who is she?
When we all arrived home Sunday, we found this big box on our porch waiting for us. Kelley and I practically raced to see whose name was on the box...hers or mine...it was mine!!! HAHAHA! It was a package from my Summer Secret Pal! A Reveal Package! But when we finally opened it, we found no note or anything letting on to WHO was my Summer Secret Pal! Perhaps she will read this and will enlighten me. :)
Secret Pal, you went all out with this package. You really are ending the Summer Round with a bang, aren't you? We all had so much fun opening it. I had to still my girls' hands as they were digging in faster than I was! I was afraid they'd take off with something ('cause they soon discovered it truly wasn't ALL for me!) and I'd never get to see it or properly thank you for it!
When we opened it, I knew you had included something for the Kelley...I saw horses!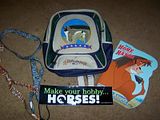 She loved it all...a horse backpack, a coloring book, and a bumper sticker. Wow!
I
was awed! There were also two items from the San Diego Zoo that I am not sure what to call them. I believe they are straps that hang around your neck and you can hold keys on them or what-nots? I'm really not sure! I know it's a convenience item but I just don't know what I should call it. Help!
Then my SP sent 4 year old Jessica "Care Bear" items!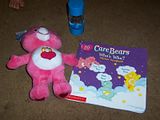 I think someone has been reading my WishList! I knew it was for Jessica even before we unwrapped the tissue you had wrapped it up in. She screamed out loud with delight when she saw that Care Bear. It's actually "Secret Bear" and she tells me that she's already told it a secret that only Secret Bear has the key to. She's been playing with the Sticker Storybook for two days now! She loves stickers. Now the blue water toy that looks like a "Lava Lamp"-type toy, I figured was for any and all of the children, so it just got pictured with Jessie's Care Bear and storybook. But I suppose, you might have just as well meant it for TJ!
Here's what my SP sent to my 14 month old son...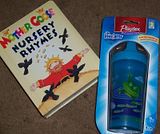 a Nursery Rhyme storybook (which we've all already read bits from! Even the girls have been spied reading it to TJ!), and a blue sippy cup with a froggy pictured on it (did you know I liked frogs...? hee hee!)
Can you believe it all, Everyone?
SP, I think you're mighty special for sending goodies to the children. You didn't have to do that, you know. But they love you for it!
And lastly, I couldn't believe what more was in the box...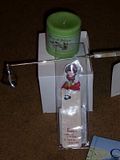 An "Illumination" candle in an Apple Blossom scent, individually wrapped in a white box with a pink ribbon (sorry that I didn't get a picture of it wrapped first! It was so pretty!), a silver flame snuffer with a mother-of-pearl-like handle, a Mary Engelbreit bookmark, two variegated-blue doilies, one square with hearts in the pattern, and a round doily, too! I haven't blocked them yet but they're still so lovely!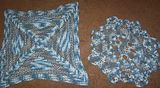 A cute book of various crochet projects,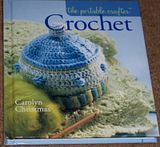 some Clinique makeup and skin care samples, including two cosmetic bags that can double as bags for other items....like crochet hooks and small thread projects!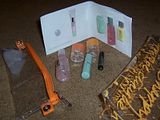 And oh my goodness, LOOK! A poncho! I couldn't believe it! It's so soft to the touch and a pretty shade of a variegated blue yarn!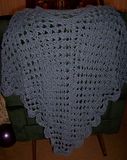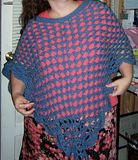 I think it's like the Marth Stewart "Going Home" Poncho. It's beautiful and I'm going to enjoy wearing it! It fits perfectly!
Thank you so much, my Summer Secret Pal! I had a great weekend and you just really ended it with a big smile on my face! You have been so generous. Please reveal yourself to me! I want to properly thank you!