Caught TJ "crocheting" my doily for the
Doily Swap
over at Crochetville.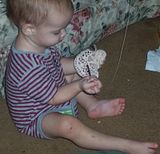 Isn't that precious?
The doily is in the "blocking" phase right now, and then I'm mailing it off to my partner to whom I was assigned in the Doily Swap. I really enjoyed crocheting it. It seems a shame to send it away, but I know that it will grace someone else's home who appreciates the craft, so I'm not too upset.
Today's mail brought some yummy yarn I won off eBay some weeks ago. I though $.99 a skein was an excellent price, and I'd never seen Caron's Glimmer.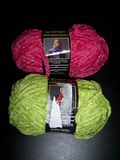 Also in the mail was a puffy from the
Crochet Talk
Coaster Exchange
. Jen in Canada was my partner back in April and somehow her original puffy was lost in transit. It's been so long that I really didn't expect anything else from that month's exchange. But Jen went beyond the call of duty and actually made two coasters to replace April's coasters and two more just because! Wasn't that sweet of her? It looks like she also enjoys scrapping or rubberstamping because she sent the cutest notecard. Thank you so much, Jen!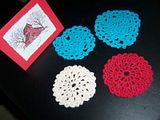 Last Thursday, the Red Hatters met at a cute little cafe in town.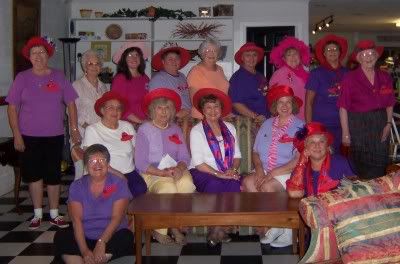 I'd never been there before, but I really loved the quaintness of it and the coziness of it. There was a jigsaw puzzle in progress on one of the tables. Anyone could work on it that had a mind to. I must say that when I first noticed it on my way out, my hand did itch to put a piece or two in place. I love jigsaw puzzles! Besides the dining table area, there is also a lounging area with two sofas and a coffee table with a chess set for anyone who would be interested in playing. I thought that this area would be perfect to host a little gathering of crochet and knitting friends. I really liked this cafe.
So today I took my 4 year old daughter Jessica to the cafe for our Mother/Daughter once-a-month lunch date. I had noticed last Thursday that there was even a wall shelf in one corner that had various toys, books and games for children to play with. So today, after we placed our order, we went and sat at a table there and sat Eeyore, Rabbit, Roo and Owl on the table. We discovered a basket of blocks, too, and we began to build a tower for a little "Polly Pocket" doll Jessie had brought with her. There were also Peg games that we found, and Jessica liked for us to pretend that Pooh's friends were playing the game, taking their paw or wing and "picking up" a peg, jumping another peg and pulling that jumped peg out of the board. She enjoyed playing more than actually eating. She didn't eat much at all. She liked my sandwich (turkey on toasted sourdough) better than hers (grilled cheese). But then mine was better than hers so I don't blame her. We took her grilled cheese sandwich home to her sister.
Kelley told me that she wants to go there on our lunch date next month. I told her "Sure! Wherever you want to go." Inside I'm thinking "Yes!!!" with a high-five slap. I really like that cafe. I like it so much that I'm afraid everyone else is going to suddenly discover it and then it will get real busy and packed and I'll never be able to savor it like these first times. But hey, even if that were to happen, at least I had these first times. It won't stop me from telling my friends about the place.