Tonight I was so happy to be able to see
Morning Song
Recording Artist
Jennifer LaMountain
in concert at our church in Statesboro, Georgia! I've often seen her sing on
3ABN
Television and ever since I first heard her angelic voice about 7 years ago, I've followed her music. She was doing concerts down in Dublin and Macon, Georgia this weekend and had a rearrangement of her schedule with another church so she PICKED our church to sing at in the area! We were so blessed to have her sing.
She's really just like she appears on TV, a down-to-earth lady, warm and friendly. I loved meeting her! She was actually in the parking lot walking to her car as my girls and I pulled up and so I got to meet her before I even got into the church! I asked if she minded if I took pictures during the concert, and even asked if I could post some to my weblog and she was very easy-going about it, gave her permission and even suggested I send her copies that perhaps they might choose one to post on their website! Like I said, just a down-to-earth person.
I bought one of her CDs before her concert, her latest one,
Abundantly
. There was a drawing for this same CD during the concert, and my daughter Kelley won it! Of course, I traded the one I bought for her 1st CD, "for my King". It was a great night!
Oh, you want pictures? Oh, OK!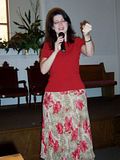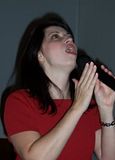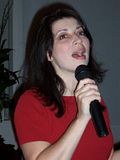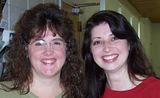 There's she and I!