Today's mail brought some stitch markers from the Crochetville
Stitch Marker Swap
. But more specifically from Cheryl (aka "Diamond" @ Crochetville) in Florida! I was so excited to see that the package was from the Stitch Marker Swap. It's the first one I've received (out of 3 partners - or was that 4 partners?). Seeing how everyone is "presenting" their stitch markers is part of the fun, too No matter how simply presented or how elaborately, they're all fun!
Well, Cheryl presented hers in a gift box, like a jewelers box. When I opened the gift box, I saw this very pretty soft pink/peach organza drawstring pouch, which held 4 beautiful stitch markers! The stitch markers are so unique! They're like shell fragments, stacked one on top of the other! And at the end Cheryl attached a charm that is fiber related! One has a ball of yarn with two knitting needles sticking in it, one is a sheep, one is a spinning wheel with a skein of yarn in progress, and the last is a sweater-in-progress as the knitting needles are at the shoulders of the sweater. These are so different and so beautiful! I suppose when I think of stitch markers, I think of beads. These are such a refreshing surprise. I LOVE THEM, CHERYL!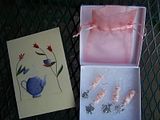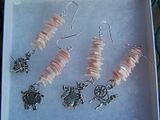 There is one problem though. These stitch markers are so lovely that they make me re-think the quality of my own! ACK! I thought mine were pretty, but they're not as unique as these! Oh, I know, I know. I won't play the "comparison" game. Mine are pretty, too.
I'm sure I will love all that I receive, too. I'm going to have to figure out a way to display them! Inspired by my Secret Pal's creation of a stitch marker holder, I created my own stitch marker holder last night.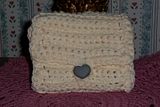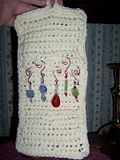 This will hold only a few, though. I wonder what else I could use to hold or display them. I did see
this
during my blog hopping yesterday. Or perhaps I could just crochet a Wall Hanging swatch to line them all up on.... hmmm... you readers have any ideas?
I do have my stitch markers completed (that was a sneak peek of them up above in my stitch marker holder) and did take some pictures, but I don't like how the pictures turned out (blurry, dark...), so I'm going to wait until tomorrow and take a picture of them outside in the daylight on my Macro setting on the digital camera. That setting took a wonderful picture of Cheryl's stitch markers.