A package from Norway arrived in my mailbox today! It was from my Crochetville Secret Pal! What a wonderful surprise! Look what she sent to me!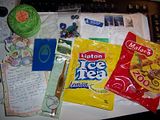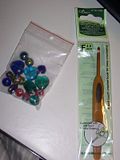 A personal note, an oval bookmarker, a package of Lipton Tea Mix, a package of candies for the girls, a heart shape sucker/lollipop which Jessica promptly asked for when she saw it in all my goodies, a Clover hook with a special handle in size F, some beautiful variegated green thread in size 20, and some beads, perfect for making my own stitch markers!
What's not in the above picture is the stitch marker holder she crocheted which is holding 6 stitch markers! They had to have their own picture. They're beautiful! What's also neat about this stitch marker holder is that while it looks like a single swatch folded over with a button closure, inside there are actually extra chain stitches made over the "fabric" of the holder that are what the stitch markers are hooked through, not just any stitch on the holder. I hope I didn't make that difficult to understand. It's really a neat concept and I wouldn't have thought of it myself. I would have just hooked the markers around any stitch of the holder, but with that method you would be able to see the wire of the marker from the outside of the holder. But my Pal's holder actually has extra chain stitches in the holder for the specific purpose of holding the markers.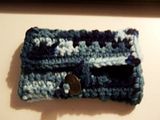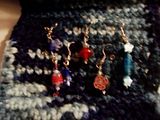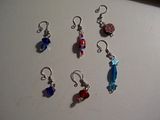 Thank you, Secret Pal, for a wonderful package. I look forward to your reveal package you mentioned. Thank you for all the e-cards, too, and the visits and comments left here on my blog!
Today I also received two postcards. One was via the
Postcrossing
swap and another was a personal swap that I am doing with
Susan
in New Jersey here in the United States of America. And actually that would be the one on the bottom in the foreign language! She said she visited Holland last June on a business trip and this is from the zoo "Blijdorp" in Rotterdam. I love postcards!