It's been a little while since I last blogged. Hurricane Katrina and her effects left me overwhelmed and it really just took a little while before I could sit and think about crochet. I did a little bit in the past week and a half. So I'm here for "Show and Tell".
BOOKMARK - "Bowties and Lace"
This first picture is a creation of mine. These are the "tests". All of them are a little different, and one of them doesn't even have the same edge! To be honest, I "forgot" one round. By the time I realized it, I decided I wasn't frogging it. And I think I actually LIKE ending the bookmark in this round best.
Any opinion? Can you spot the difference? And can you tell which bookmark I made first and which one I made last? Pattern tweaking, I tell ya!
JULI'S SCARF - J Hook and Bernat "Frenzy" Yarn
This next picture is my pattern testing results of
Juli
's scarf pattern. I didn't have the Fun Fur, but used Bernat's Frenzy. This was two skeins! It turned out pretty and I think I might keep it for when it gets a bit chillier here. After all, I do look good in red.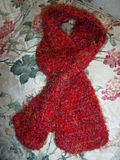 If you'd like to make one, too, you can find the free knit and crochet patterns
here
.
BITTY BABY DOLL PONCHO & HAT SET - Caron Glimmer Yarn
And finally, another attempt at designing. I whipped this poncho and hat up for Kelley's Bitty Baby doll. She's been wanting something for awhile now, so one night I just created this as I went. I used one skein of Caron Glimmer yarn in Green Apple (I think that was the name of the color) but ran out while making the hat, so I finished the hole at the top of the hat with some eyelash yarn. It looked cute like that, but I decided to go ahead and edge the hat and then the poncho in the eyelash, too. I think it turned out adorable.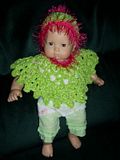 Now to make one for Jessie's "Big Baby". In purple, of course.
POSTCROSSING STRIKES AGAIN!
This is the latest postcard that I received last week. This one was from Berlin, Germany. Isn't it beautiful? I love the Sunflowers. I also love those fantastic stamps!!!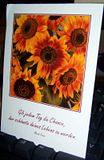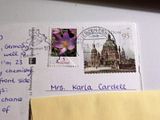 If you like to send and receive postcards, too, check out
Postcrossing.com
!