Crochet-related, I found this cute little Cupcake Pincushion project in the October 2005 issue of Good Housekeeping!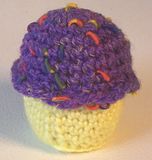 Now I really like the one pictured in the magazine - it has little seed bead "sprinkles" on the icing of the cupcake. But I used some Wiggles yarn as I thought the "wiggles" would make fun 'sprinkles'. However, the next one I make, I think I'll try some seed beads. You can find the free pattern
here
.
My 16-month old TJ thinks it makes a good "ball"...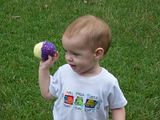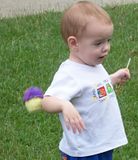 I love that photo as it looks like the cupcake is hitting TJ in the back...Actually, this was TJ's "throw"...he just happened to drop it behind himself instead of in front of himself! Look at that face - you'd think it was attacking him!
Is it Easter?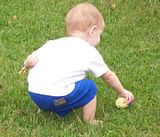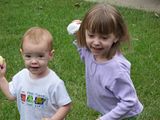 Let's see who can throw the farthest! (I think Jessie will win this one considering TJ's throwing record...c'mon TJ! In front of you this time!)
We're all sitting here kinda wishing DH was coming home today. We thought it would be today. But he's not here yet. I'll call the center in 30 minutes to talk to him if he's still there. Perhaps tomorrow he'll be home.
We were going to take the children to the fair tonight. It's in Statesboro until Saturday or Sunday so there's still time. It'd be nice to go as a family, but maybe after TJ wakes up we'll venture out there ourselves. The girls have been waiting for a few weeks for the fair to arrive. I hate putting them off.
Talk more later!