Look what Postcrossing brought today! A postcard from Finland!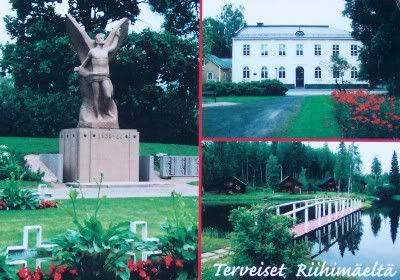 The stamp was lovely, too...I forgot to take a picture of it!
A package from
Juli
arrived today, too. THANK YOU, JULI! You're so thoughtful to think of us.
First, here is a picture of most of the stuff - it was hard to get it all in one picture, and I still didn't get everything in one picture. Hence the separate pictures below. (pictures are clickable if you want to see a larger view)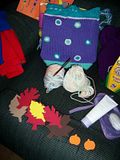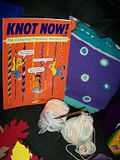 For Kelley, Juli sent her a polka-dotted gift bag which held what I believe was Juli's FIRST knitted bag! I couldn't believe that Juli wanted to give this to Kelley. I feel honored and tried to explain to Kelley that the bag was really special because it was Juli's first knit bag. Here's the
post
Juli made on her blog after she made it! Thank you again, Juli!
We also found two balls of cotton and a size "H" crochet hook inside the bag! She also sent a Friendship Bracelet instructional book that I know Kelley will enjoy.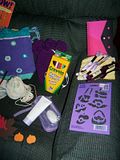 Next, Juli sent a purple crocheted drawstring bag for Jessica (pictured behind the colored pencils) which held colored pencils (she's STILL writing with them, Juli!) There were also stickers but Jessie has already stuck them somewhere! Also, for me were these things: a little purple makeup bag which held two Mary Kay products, some lotion and a bar of soap; 6 skeins of DMC floss in lavender and dark purple shades, a yellow and white variegated face cloth, a pink and black notebook, and a sheet of stencil shapes. Oh there were also foam pumpkins and some foam leaves (perfect for FALL) that were self-adhesive. Jessie's already wanting to stick them somewhere!
And last, but not least, Juli even sent a sweatsuit to TJ! It's so adorable.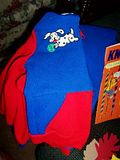 And Juli, it's not THAT big. He could wear it NOW! But yes, there's room for him to grow some more in it, too. We've been enjoying cool weather here today, the "throw all the windows open in the house" kinda weather! So I'm sure he'll soon be wearing this outfit.
Thank you so much, Juli, for all the goodies! You're such a great friend. I'm so glad I 'met' you a year ago! And I still can't believe you gave Kelley that Intarsia Knit bag...