(originally composed on November 15th, but finally posting on November 20th)
Lots of FUN mail last week!
~~Crochet List Bookmark Exchange~~

Let me start with this wonderful box from Maria for the CL Bookmark Exchange...have you ever received a BOX for a simple bookmark? Well, this was a package with October's bookmark in it, but it was also a prize box for winning the bookmark contest in the "Christmas in July" themed exchange several month's ago. Remember this? Well, here is Maria's prize box that she sent to me, plus October's bookmark (picture is clickable).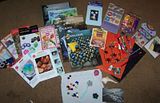 Goodness, let me see if I can tell you what all is in this picture. And I hope I left nothing out...oh, actually I did leave something out! There was a sheet of Ty Beanie stickers which I thought was really neat. I hate to take the stickers off the sheet! But other than that, I think I have everything in the picture...
5 free tear-off pattern sheets

5 afghan pattern sheets

2 crafty project sheets plus a Cake Mate booklet of ideas

A Floral Window Notebook

"Create A 3-D Card" craft kit

A "Kelly's Crafts 'Memory Suncatcher Magnet' of a Butterfly

Temporary T-shirt Tattoos

A package of diecut accents for Scrapbooking with a "School" theme

A package of cappuccino

4 skeins of floss/thread

2 sparkly pencils

A Butterfly picture frame keychain

A Ladybug trivet-like item, though I won't be putting any hot pans on this

A carved wooden dolphin

A crafty little critter (pink pom-pom with eyes glued on and heart shaped feet)

A postcard of her son's school

The beaded bookmark - super cool!

Butterfly, Bee, Ladybug, and Flower confetti!
Goodness, Maria, if I left anything out, please let me know. I was so overwhelmed with all the goodies and my girls were all hands as you might have imagined (TJ was, too!) They will love doing those crafty kits you sent. I chuckled at you sending the "Kelly's Crafts" Memory Suncatcher....I felt like it was just for my Kelley! And she will probably be the one to complete the project, too! Thank you also for tending to all my favorite things...butterflies and ladybugs most specifically!
~~Bernat's "Disco" Freebie~~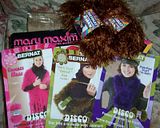 I also received the free skein of "Disco" yarn that Bernat offered. Kelley also sent off for a free skein, too, and we both received a package on the same day. The yarn was the same color, a yummy brown, but we don't mind. It'll make a nice edging on something. :) Also included in the package was a Mary Maxim catalog and about 3 free tear-off pattern sheets.
~~Crochetville's Falling Yarn Swap~~
On Saturday, this wonderful yummy yarn arrived from Joanne (jpr54_) for the Falling Yarn Swap over at Crochetville. This is definitely Fall-themed yarn! I even had to chuckle at the ORANGE yarn because I had none and had been wanting some to make some pumpkins! I now can make some pumpkins! Isn't this yarn scrumptious?
~~Crochetville RAOK~~
Tina surprised me with this Crochetville RAOK. In it were two crochet leaflets, and a notecard along with TWO packages of these great knitting notecards which she had told me she found for only $1 a package! I couldn't believe it! I told her if she ever ran into any more to pick some up for me and I'd definitely reimburse her for them. But you know, she RAOK'ed me with two lovely packages! Thank you so much, Tina, for your sweetness!
~~Crochetville's Scrunchy Swap~~
Angie
over at Crochetville, aka as the Scrunchy Swap Coordinator, sent me two scrunchies which arrived last Thursday. Curious thing is that the swap is for FIVE scrunchies, not two. Angie is being a tease is what she is doing. Sending a few at a time, leaving the best for last she said. These were really nice and I'm looking forward to wearing these! My fave has to be the fuzzy brown scrunchy!