The cloche is finished! I think it turned out rather cute myself. Or maybe the model is the cute one!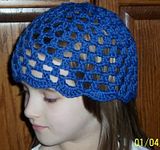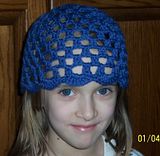 I want to add a white or yellow flower to this one. Maybe make it a pin style so that it can be easily removed. I'd love to be able to make these and sell them. It would bring in a little extra money which we desperately need. Do you think $10 is reasonable?

A little over a week ago, I posted about my trip to GoodWill with my mom. She loves to frequent these places and buy things to resell. Well, I found some doilies! Aren't they beautiful? They're about 18" long (or wide, however you want to look at it).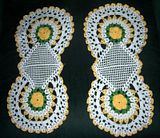 There was another doily with these. It was pink and green and white. I left it with my mom. I think she wanted these doilies, too. So there were actually 3 doilies. And you know how much I (oops! I mean "my mom"!) paid for them? One dollar bill and one dime! $1.10! I was so sad that these exquisite doilies were being sold so cheaply. But then I was glad to be the one to "rescue" them.
And finally, in case you didn't know, my birthday is the 25th this month, I joined the Crochet List Birthday Fun Exchange so that I could say I actually got a present or two for my birthday. It seems the older I get, presents aren't a part of my birthday anymore. What's that about? Just because I'm not a child anymore doesn't mean I don't like presents! So I joined up in that exchange just so I could get a present. Sad, isn't it?
Well, my first package came today! Thank you, Theresa! If you can imagine this, I was actually disappointed that it was for my birthday....'CAUSE I WANTED TO OPEN IT NOW!!! My little girl Jessica even wanted to help me open it. She doesn't understand why I'm not opening mail I received today. But I'm going to wait until January 25th.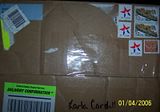 ...only 3 weeks away...sigh