Does everyone like pictures? I love to see pics on blogs, so I love to add them to my own. Well, here are some pics for you!
Here is the promised pic of my snowflake for Snowflake Monday. Don't let the tiny picture fool you....it turned out to be 10" wide!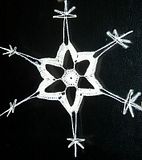 I stiffened it with glue and water, my first time using that method, but I don't think I'd do it again. Maybe I used too much or was too sloppy with it, because I found I have to trim the thin dried glue from the edges of my snowflake. Unless there's a neater way with glue and water, I think I'll just stick to spray starch (I ran out, which is why the glue and water came into being). You can find the free snowflake pattern
here
.
And this next photo is a cloche I am crocheting. I'm using Cascade's "Pima Silk" which is a cotton blend (85% cotton/15% silk and made in Peru). It is so soft, as you might imagine! It's really a pleasure to feel gliding through my fingers as I work with it.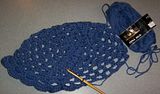 You can find the simple pattern
here
.
About a week ago, I mentioned that my dad, who enjoys woodworking, created some pens for us grown-up children over the Christmas weekend. We drew little slips of paper with a number written on each of them, and then, according to number drawn, chose the pen of our choice. Dad had 4 different woods to choose from, and though I don't remember them all, I do remember the Ebony and the Olive Woods, the darkest and the lightest woods.
DH had drawn #1 so he chose which pen he wanted - the Ebony! That's the pen I would've chosen! Well, even if I didn't get to choose it for myself, at least it was in the family, I thought. However, it appears that dear brother of mine, who had drawn the #2, was going to choose that pen, also. Who wouldn't? It was very lovely to behold. DH, being the gentleman that he is, gave his Ebony pen to Paul. Yes, I felt disappointed. But only at first. It was only a pen, and it made my brother happy to have it, so I would much prefer he have it. Hubby chose a different pen, the lightest of them, Olive Wood, to replace the Ebony. But my brother seemed to have had that pen in mind, too, for when his wife Jackie's turn came around (she wasn't there at the moment to choose her pen so he was going to choose one for her)! Perhaps you can guess what happened next. Or maybe you can't. DH gave him that pen, too! Aw, isn't he sweet?
So hubby and I got the two remaining pens, which were similar in wood tone though they were different woods. Don't ask me what they were...strange names they were. But they were pretty and my dad made them and so they were special, too. Dad did end up creating two more while we were there for the weekend, however, and I actually chose one of his newer ones. It had a slight pink or purple tone to it. And here is my final choice!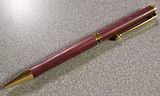 Dad indicated he'd make some more Ebony ones since they seemed to be such a hit. I hope he will remember to do that. I'd love to have one.
And finally, thank you,
Wendy
, for leaving a comment on my blog when I made the original mention of my dad's wooden pens. You suggested that I ask my dad to make crochet hooks! When I first read your suggestion, I thought to myself "Duh!" Why hadn't I ever thought of that??? I finally wrote to him just a day or two ago and told him how a crochet friend had suggested that he try crochet hooks, and gave him two websites where he could view wooden hooks created by other woodworkers, both crochet hooks and knitting needles. I just heard back from him last night about it, and I couldn't believe what he said. He said that "coincidentally" he just happened to come across a site with crochet hooks about a week ago and was looking into it! "Coincidentally"???? First, I would never dream my dad would even give a thought to a crochet hook in his woodworking endeavors so how come he just happened upon a website and would even consider making a hook. Secondly, Wendy just mentioned it around that time on my blog. Is it a coincidence? I wonder if my dad visits my blog... Well, if he does make a crochet hook or two, I'll be sure to post a picture. Maybe he can sell some on the side.
Here are the two sites I mentioned to him where others turn these lovely creations.
Check them out! You'll love the eye candy!