Here is a picture of the goodies that
Anna
sent to me for the Crochet Talk Coaster Exchange.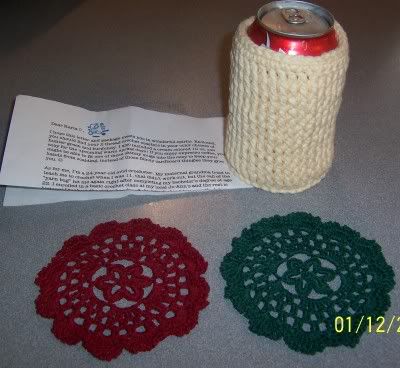 She sent two coasters in the colors of my living room, burgandy and hunter green, and then she sent this cute can cozie! If I drink a Coke, I usually pour it out of the can into a glass. But my glass fits really nicely in this cozie, too! What a cute idea! Thank you again, Anna!
Also, I have been putting books on hold through Interlibrary Loan, and I checked these out today!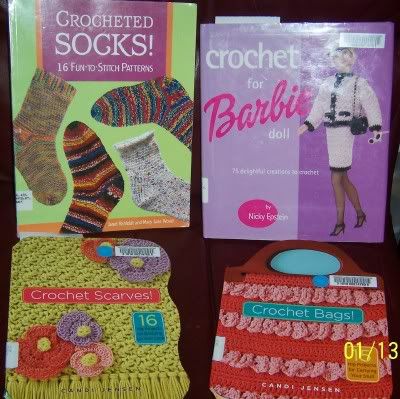 I like to check out the books and look through them, and then determine if I enjoy them or would use them enough to purchase my own copy. Now the scarf and bag books (by Candi Jensen) are cute, but I don't think there are enough patterns that I would make out of these books to warrant them taking up space on my bookshelf. I really do like the fact that they're shaped books though, not normal rectangle books. That is a unique feature. The Crocheted Socks book I was sure I would enjoy and I do! I will have to buy this book and put it in my personal library. Now the Crochet for Barbie book, I thought might be a good book. Well, it is! So good in fact that I immediately went online this afternoon and bought it with the $50 Joann's card my mom sent me for Christmas. With the 50% off any one item code I received in an email, I got the book for a little under $9! Believe me, it's worth it! If the other book in the series"Knitting for Barbie" is this good, I just might have to buy it, too! If you can, you'll have to check this book out at your library or through Interlibrary Loan and see what I mean. Great book!
That's all for now!