Yesterday's mail brought a wonderful pick-me-up from
Stephanie
(Knit Lich)! She must have read my blog because she sent me two things I mentioned that I'd like to have. I mentioned that I needed a calendar, and Steph sent this beautiful Country Bouquets calendar to replace last year's "Roses". She also sent
this
! Isn't she the sweetest? Looksey!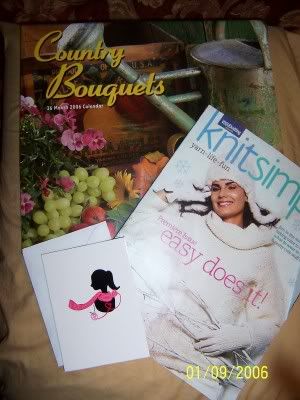 I loved the notecard, too. Thank you again, Stephanie! It was a wonderful surprise.
I also received a little box from
Karen
. She read of my
hat fiasco
(gauge, gauge, gauge!) and offered me two skeins of the same RH Light and Lofty if I cared for it. Not one to turn down free yarn, and especially yarn this color (love it!), I accepted it. And it came yesterday! It's so soft and .... red! Thank you so much, Karen! I really love it!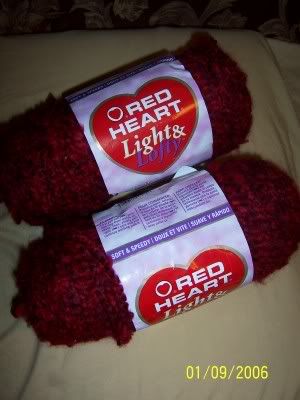 As far as projects I've been working on, yesterday was Snowflake Monday. Around 11 pm, I started a snowflake! You can get the free pattern
here
. (7th pattern down, and mine is crocheted through Round 2 only) It's finished, though not blocked yet. I'm thinking I might want to wait until I have a few more finished and block several at once. Here it is unblocked, however.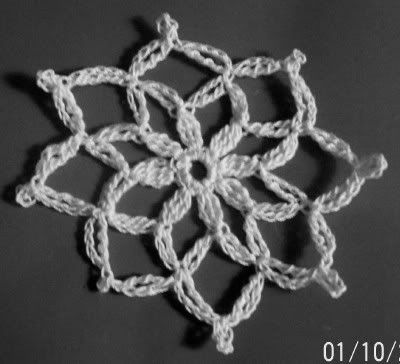 Do you see the boo-boo? Actually, there are a few...The pattern was a little difficult for me to follow. Well, no snowflake is perfect, is it? So mine's just right ... imperfect! :) I hope it passes
Julie
's inspection, though. We all know that she's the Queen of Snowflakes (and doilies!) hee hee!
Oh and here is another of my projects completed that I don't think I mentioned yet. Hats!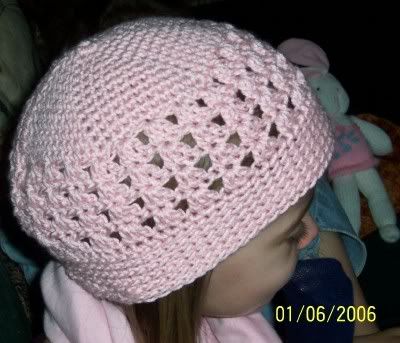 I crocheted this hat for the
Hat Swap
over at
Crochetville
(I wonder if my partner reads my blog...if you do, let me know what you think!) but Jessica took it and declared it hers, and then told me to make another one in PURPLE for her! I really like the
pattern
. I added a few rows and also changed the last rows. I suppose I'll have to make another one now for my partner.
I also made this plain white one for my Hat Swap partner. It was abducted by my oldest daughter. Items don't get far in my house, do they? I was going to crochet a flower to pin on the side of this one.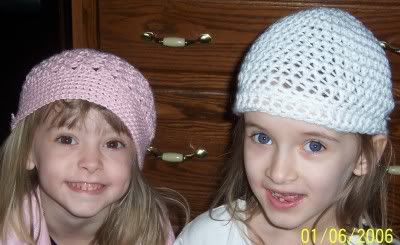 They really whip up fast, so I'm sure it won't take any time to crochet a couple more. I actually love to see my girls enjoying something I made.
And I leave you with a final pic. In case you mothers haven't figured it out yet...children do NOT need toys! Just let them play in the pantry with the boxes and the jars! Here are Jessica and TJ, spending quite awhile playing in the pantry, taking the jars and boxes out and then putting them back. And then out again. And back again.