Ok, so here are the answers to the questionaire for the SP7 Round!
Hey, even if you're not in the Secret Pal exchange, you still might find these answers interesting because they're all about ME! What. That
IS
what you come to my blog to read about, isn't it?
1. Are you a yarn snob (do you prefer higher quality and/or natural fibers)? Do you avoid Red Heart and Lion Brand?
No, I'm not a yarn snob. I love soft yarns, interesting yarns, different yarns, but I welcome Red Heart and Lion brand yarns, too.
2. Do you spin? Crochet?
Spinning is actually the next craft I'd like to learn. I've thought about beginning with a drop spindle but have not bought anything in the spinning world yet. I do crochet as it was the first craft I was taught when I was 6 years old. I taught myself to knit back in 1998 right before my oldest daughter was born. I loved the drape of the knit fabric and was also noticing beautiful crocheted sweaters that suddenly had knitting incorporated in them. I couldn't knit, and I had to make the sweater, so I taught myself from a book. I also enjoy cross-stitching, but haven't picked that up in several years.
3. What do you use to store your needles/hooks in?
I like to display my hooks and needles in pretty vases, actually. Like this...(excuse the mess on top of the tv, but you might be able to see 2 or 3 vases - knitting needles in the tall one, crochet hooks in smaller vases, separated according to their type - wooden Brittany hooks, the aluminum hooks, and the small steel hooks.)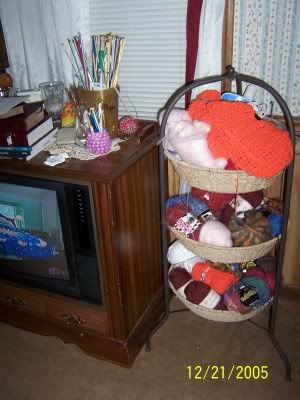 4. How long have you been knitting? Would you consider your skill level to be beginner, intermediate or advanced?
I have been knitting since 1998. Self-taught. I would classify myself as a beginner.
5. Do you have an Amazon or other online wish list?
I do have an Amazon Wish List and a small other WL posted on my blog in the sidebar (which includes the Amazon button).
6. What's your favorite scent? (for candles, bath products etc.)
My favorite scent of all time is a "Peony" scented candle I found at a Target store years ago. I have not found that scent again. However, I also enjoy vanilla, roses, and most any soft flowery scent.
7. Do you have a sweet tooth? Favorite candy?
No, I don't have a sweet tooth. I have 28 sweet tooths! ("teeth", I know) My favorite candy is chocolate anything, but I also like peppermints. My favorite cookie would be Oreos. I also enjoy Fig Newtons. And some Chocolate Chip cookies. Yeah, I have a "sweet tooth" alright.
8. What other crafts or Do-It-Yourself things do you like to do?
I also enjoy beading. I'm a beginner in that craft. I also enjoy scrapbooking.
9. What kind of music do you like? Can your computer/stereo play MP3s? (if your buddy wants to make you a CD)
Yes, my computer can play a CD. My favorite genre of music is probably Contemporary Christian (Point of Grace, Steven Curtis Chapman, Kathy Trocolli, Twila Paris, Sandy Patti, etc.....) However, I also enjoy instrumental and classical music, some jazz. I especially enjoy the sounds of the saxophone, the violin and the piano.
10. What's your favorite color? Or--do you have a color family/season/palette you prefer? Any colors you just can't stand?
My favorite color(s) are rich jewel-toned colors such as royal blue, emerald green, ruby red, fuschia! However, I also love the Fall palette. I also seeing bright blue and white put together. Or red together with black. There aren't really any colors I "can't stand".
11. What is your family situation? Do you have any pets?
My family situation includes a husband of 16 years, a 7 yo daughter, 4 yo daughter, 19 mo son, 1 indoor cat and 1 outdoor dog.
12. Do you wear scarves, hats, mittens or ponchos?
Yes, yes, yes, and yes.
13. What is/are your favorite yarn/s to knit with?
Anything
soft. I don't have a fave brand, per se.
14. What fibers do you absolutely *not* like?
I don't like to work with anything scratchy, but then who does?
15. What is/are your current knitting obsession/s?
Currently I'm into hats and scarves, but I'm always open to trying new projects.
16. What is/are your favorite item/s to knit?
I'd have to say my favorite item to knit would be a scarf. I'm not very advanced in my knitting abilities yet so I still tend to knit items that are "safe" though I'm not afraid to venture out. With 3 little ones, it's just harder to find the time to get away to CONCENTRATE on a more intricate pattern.
17. What are you knitting right now?
Actually, I am crocheting some hats. I also have an afghan waiting in the wings of my mind as the weather is getting absolutely freezing here!
18. Do you like to receive handmade gifts?
Yes, I love to receive handmade gifts!
19. Do you prefer straight or circular needles?
I do not have a preference at the time. I do prefer short straight needles vs the longer ones. I'm sure I would enjoy working with circular needles if I had a project that used them.
20. Bamboo, aluminum, plastic?
I like all materials, depending on the yarn being used. I probably use aluminum most, however, as I find most yarns slide over them easiest. The wood hooks do keep my hands warmer however.
21. Do you own a yarn winder and/or swift?
I do own a yarn winder. I do not own a swift, though

.
22. How did you learn to knit?
I learned to knit back in '98 when I taught myself through a book.
23. How old is your oldest UFO?
My oldest UFO....hmmm....that would probably be a geometric afghan...still not finished.
24. What is your favorite animated character or a favorite animal/bird?
My favorite animated character would be Bambi. I love deer. I love sheep, too! And green frogs!
25. What is your favorite holiday?
I'm not much into "holidays" but considering all the sights and sounds of the holiday, I'd have to say "Christmas" is my favorite with "Valentine's Day" running in second place.
26. Is there anything that you collect?
I enjoy collecting stamps, used and new; postcards; and any yarn pattern! I also like Ty Beanies, and little fast food toys such as the dolls or hot wheels cars McDonald's puts out every once in awhile. I love ALL the "under 3" toys! Too cute!
27. What knitting magazine subscriptions do you have?
I have no subscriptions at the time as my budget won't allow me that indulgence. However, I love Vogue Knitting and Interweave Knits. And Piecework. Creative Knitting. Family Circle Knitting. I hear Australia's got a new magazine called "Yarns". And I'd love to see a "Rebecca" magazine. Are there other magazines I'm not aware of?
28. Any books, yarns, needles or patterns out there you are dying to get your hands on?
Too many to list! I do have an Amazon WishList that shows books I'd love to have. As far as supplies, I'm always interested in anything that serves knitting or crocheting. There is actually some yarn on my Wish List that I've been dying to have...I've seen the Crystal FX (Berroco brand?) in a yarn store and would love to have some of that! But really, I'm interested in anything yarn related. You know what I mean, I'm sure.
29. Are there any new techniques you'd like to learn?
I'd like to learn to spin. I'd also enjoy learning more complicated knitting stitches than knit and purl! I think I'm ready to learn to CABLE! Ha ha! I'd also like to learn to incorporate beads in my work.
30. Are you a sock knitter? What are your foot measurements?
I actually have not knit a sock (or a pair) yet, though I've been interested. I thought it might be interesting to crochet one first to get the feel of making a sock. But haven't found the right pattern to get me started.
31. When is your birthday? (mm/dd)
My birthday is this month! January 25, 1968!