The library called today to let me know that they had a book for me that I had placed on hold. It's been awhile since I placed books on hold, and I thought I had received them all already. But, no, there was one I hadn't seen yet, "Knit Scarves!" by Candi Jensen. I had seen her other books "Crocheted Scarves" and "Crocheted Purses" (I think those are the correct titles) but I had not seen this knit book yet. Flipping through it, I saw wonderful pictures and yummy yarns, but nothing really jumped out at me. But of course, that's not saying someone else might not enjoy this book. I have been using the library to review books before I buy them, however, to determine whether I really want them in my personal library. And while this book is cute, with its unique shaped cover and pages, I don't foresee me reaching for this book for any pattern ideas.
Having said that, though, I DID find a book while I was at the library which I had not seen before. It is a new purchase for our library and was copyrighted in 2005. It's called "Knit & Stitch for beginners" and it's a real attention grabber.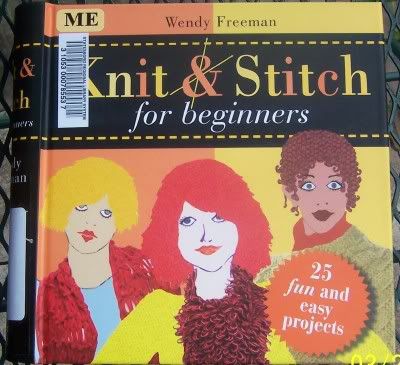 One of the first characteristics of this book that I love is that it is spiral-bound. I love this for some reason. And though I know one shouldn't "judge a book by its cover", I admit that I'm one who does this. Do I dare suggest that most of us probably do?... This cover is illustrated in a fresh and fun-spirited way with its hand-drawn faces but photographed accessories. Even the hair on the people are photos of knit swatches. These illustrations are carried out throughout the book, and
it's just fun!
I would definitely say this is a good beginning knitter book. Besides just the enthusiasm that exudes from the illustrations, the instructions are plainly photographed and explained, with lots of tips, and even uses for some of the embellishments created. This is a book I'd definitely purchase for my personal library. So on my Wish List it goes!
Remember your local library (and not-so-local) as a source to review books before buying them. It's a good thing.
POSTCROSSING
Some of you may remember that I enjoy swapping postcards through
Postcrossing
. Well, it's been several months since I've sent postcards, and I was really missing receiving them, too. A couple of weeks ago, I mailed about 4 postcards and eagerly awaited receiving one myself. Well, that day came today! Look at this beauty all the way from Finland!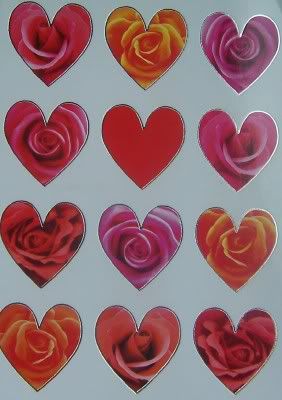 And look at the gorgeous stamp!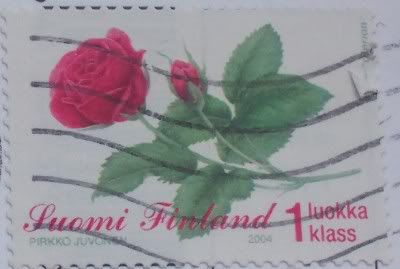 I love collecting flower stamps (and "LOVE" stamps) and I would love to have another one of these for my stamp collection. I must ask Katja if she could send me one off her used mail. I don't dare ruin this gorgeous postcard by removing this stamp! It is a beautiful stamp, don't ya agree?
STITCHMARKERS
Lain
coordinated a stitchmarker swap, and I was late getting mine out (the story of my life right now). But I finally got them mailed to
Ragan
and Robyn today. While I sealed Ragan's envelope before getting a picture of the stitchmarkers, I did remember to take a picture of the remaining ones. Robyn will be receiving 6 of these. This was my first attempt at making these solid round stitchmarkers. I have made some before but they were made with french hooks, or the closing "earring" type holders, if you know what I'm referring to. But I think I managed to bend wire into perfectly functional knitting stitchmarkers.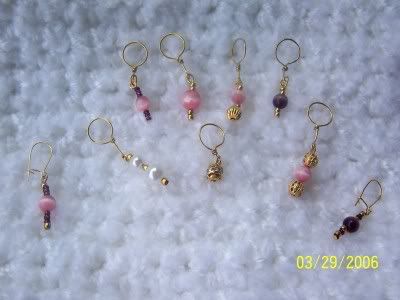 CROCHETVILLE'S "SPRING PURSE SWAP"
My assigned partner at Crochetville's Spring Purse Swap,
Lorrie
, preferred a "tote" type purse, so this is what I came up with. (I thumbnailed the photo so feel free to click on it for a closer look.)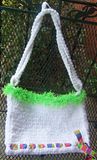 I did get some inspiration from a bag I saw online, but I feel I really created this bag myself. And I think it came out pretty darn cute! Do you think it qualifies as "Spring-y"? Reminds me of an Easter basket actually with that green fringe on the top and the multi-colored ribbon on the bottom. I didn't intend it to be like Easter, but I think it definitely qualifies as Spring-y! I asked my neighbor Cindi to line it for me because she is making fabric purses and lines them, so I thought "What's one more?" She's a sweety and came through for me and it turned out really nice with a white textured fabric lining. She also added the green fringe. And gave me that ribbon. So really I guess I should say that she gets half the credit for this tote! I hope Lorrie enjoys it. It is hard to not keep it for myself! Hopefully, Lorrie isn't peeking at this before she gets it....