Ok, so maybe this isn't a cell phone, but I'd still love for interested viewers to be able to "hear" my stories on my blog. So please tell me if any one of you are experiencing some technical difficulties in viewing my page. I have heard from one viewer who says that she cannot view the words for the wallpaper in the background. Now, I see the wallpaper, but for me, it's on the left and right margins. The words of my blog are all contained within a pink background and are easy for me to read. But how about you all? Are you able to read this blog without difficulty? This reader was using Mozilla to view this page, and I don't know much about browsers and which are Blogger-friendly or if the viewing has to do with personal settings or what. I'd love to hear any suggestions from any of you, whether you have been having problems viewing my page or if you know what might be causing this viewer to not see the pink background but only the "wallpaper" behind the words.

Ok, with that out of the way, onto other things.

Yesterday I received a surprise puffy in the mail from Sharon B. for the DishclothsRUs Yahoo group.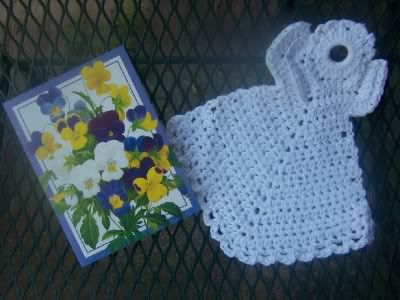 I just recently joined and as a new member was gifted with a beautiful Angel dishcloth as a "Welcome!" Isn't that sweet of Sharon? She does this for every new member, I understand. Wow! Now members are limited to 150, which has been reached, but that's a lot of Angel dishcloths over the past 6 years! Thank you again, Sharon. It was a wonderfully sweet surprise and very much appreciated.

Receiving this Angel Dishcloth and notecard was quite a spirit-lifter because just Tuesday morning, we discovered that my neighbor's 20-something year old daughter had died in a single car accident. There is speculation that she died before the accident. She was returning home from the Emergency Room. I don't know if she was given something before she left, had a reaction, or what. She had almost died a year ago and was in the hospital for 3 months, was on an oxygen machine for months thereafter at home. And after all that she fought through last year, she should die like this?

Her mother is devastated as you might imagine. I was pretty affected by the news myself. I was actually surprised how upset I was. I knew Candi, knew the troubles she endured, spoke with her several times, but we weren't "close" as most would call "close". But I suppose just being good friends with her mom, I felt the shock, too. Perhaps as my husband put it, I had the realization, without ever having put it into words, that it could as well been one of my children leaving this life so abruptly. And I can agree with his thought. Maybe that is why I was so upset about it. It could have happened to us. To anyone! None of us are guaranteed another minute beyond the moment we're in right now. Think about that.

Today, Cindi and her other daughter Chasidy arrived back home from the neighboring city where Candi's funeral will be held. They said they had put Candi's makeup on her, and they were feeling much better. I can't imagine doing that, imagining how either one of them felt tending to their daughter and sister in that way, touching her cold skin repeatedly as they applied Candi's makeup, knowing she wasn't even aware of this last loving gesture they were performing on her. I imagine it provided a big step towards closure. To spend that time with her so intimately. To talk to her or about her with each other as their fingers repeatedly touched her skin, or they brushed powders across her features. I know that the grief will wash over them again, especially on Friday night during the viewing, and moreso during the graveside service on Saturday. The awfulness of it all. But I'm glad for the emotional reprieve they've been granted for today.

Please keep them in your prayers...ask for comfort during this trying time, people to be placed in their path who have been there, who can perhaps offer them words that no other who hasn't been through the loss of a child can offer. And most importantly, that they would draw closer to God their Father through this tragedy. I'm not one who believes "God did this". But there is another spirit at work in these tragedies, from someone who wants to cause as much heartache and hurtfulness he can while we're living this side of heaven. But through all the pain this enemy of ours causes, God can turn it around for good. And God can give us comfort and peace through tragic situations in this life. Think of Cindi, her other daughter, her son, and Candi's husband who have been left to grieve at her death, if you will.

You know, I'd like to make Cindi a "Comfortghan" and if any of you would like to contribute squares in this endeavor, that would be so wonderful. I believe she likes turquoise and brown paired together. If 12" squares were made, I could whip the afghan together more quickly for her than if we did 7" or 8" squares. So if any of you feel inclined to create a 12" square to be included in a comfortghan to her, I would gladly accept it. You can make it in turquoise, brown, or a combination of those colors and in any pattern you'd like. You can knit or crochet the square, whichever you choose. There are lots of free crochet patterns here. There are also some knit squares here. If you can "tag" your square with at least your name and the city and state where you are located, I think it would be a nice touch so that she could see where all these hands that created the squares lived. Let me know if you need my mailing address to send a square(s). You can simply leave a comment here or email me at tcsgirl at aol dot com and I'll return the email with my address. Thank you in advance for considering this.