Has anyone missed me? Ok, I couldn't help but ask. I cannot believe that I haven't posted since April 27th! Surely I've posted since?! I sure felt like I had! But it has been a busy two weeks so I understand why I haven't. I had lots to share, but just no time at the moments then to sit down and post. But here I am! Now who missed me?

The latest news is that my daughter Kelley received a fun puffy (envelope full of goodies which in turn makes the envelope "puffy"!) from a Crochet List friend, Pammy, today.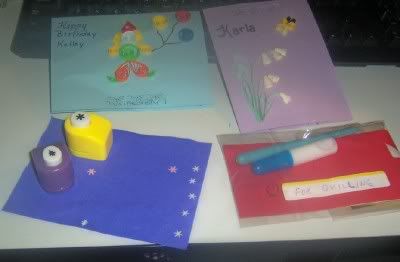 Pammy was so sweet to send a birthday present to her. Her 8th birthday was April 15th. Pammy sent a home-made Birthday Card which she quilled herself and also included the instructions, some paper, glue and a quilling tool for Kelley to try it out herself. I think she's old enough to use the things now, Pammy, but I just might have to have a go at it, too! I've always wanted to learn to quill! ha ha! Pammy also sent two punches, a leaf and a flower/snowflake, and some various colored paper to punch and various shapes (heart, star, oval egg...) to glue the punch-outs onto. Of course, the shapes could also be used for the quilled objects. This is all so very sweet of her. She even quilled a card for me! I just love the ... (the name of the flowers escape me at the moment...) and the butterfly! Thank you, Pammy!

Last week was a busy one in the Cardell household. The girls had their dance pictures made on Thursday...what a madhouse! All those girls and parents and the costume changing and the heat... WHEW! I was so glad when Kelley and Jessica were done and we could leave! But first we had to take the pictures....

I actually had Kelley and Jessica pose in the same picture, instead of individually, as many of the dancers did. Jessica would NOT stand up for a picture alone. I knew this. So I asked her to at least take one with Kelley. Kelley posed and Jessica just stood there. No smile. But it was alright! At least they were able to get one! Funny thing is, Jessica did better in her Class picture! She even let the photographer, Vickie, pick her up (!!! No one touches Jessica !!!) and set her standing on a long bench with some of the other girls. Jessica didn't throw a fit like I thought she would! She has never liked anyone she doesn't know touching her much less pick her up! But she stood there on that bench with the other girls while Vickie set other girls standing in front of the bench, and even more on their knees in front of the standing row of girls. I was very surprised, but pleased how Jessica stood there. I had to ask her several times to lift her chin because while she'll stand there, she won't look at anyone. So her chin goes down to her chest and her eyes on the floor. However, I knew this ahead of time and bribed her before we even left the house!!! Yes, I bribed her! She likes to play Donkey Kong on the GameBoy and I told her if she'd at least have her picture taken and look at the camera, I'd let her have 15 minutes to play afterwards. There was no smiling but at least everyone who gets a class picture won't have to look at the top of this little girl's head. ha ha!

Here are a few shots I grabbed on Thursday during Picture Day...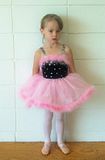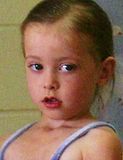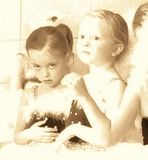 The last shot is one that I've actually had to work on. The original shot was very bright and you could barely make out the faces. The reason: the photographers lamps were on and my camera flashed....toooooooo much light! But after playing with it, I was able to pull out the faces and hubby said it really looked kinda "artsy". I think I agree. This version is a sepia version, but the original is in color and I must say does look interesting. Wonder if I might enter it in a photography contest.....

Now my other daughter Kelley, she's not afraid of anything, I sometimes think. She posed and smiled and just had a good time during picture day. I am so proud of her and how much she enjoys dancing.

So pictures were Thursday. Rehearsal was Friday. Tommy took Kelley to rehearse and Jessica went, too, though she said she was not going on stage. We expected this, so no problem. She was just going to watch. I had told her earlier that I didn't mind if she didn't want to go on stage but I did want her to stand for the pictures. She did that.

Saturday night was the Recital. I was so excited to be going. Tommy decided he should stay home, keeping TJ because he knew there was no way TJ was going to sit through a 2 hr. recital. He said he himself pretty much saw the "recital" during rehearsal and that I would enjoy it more going with Nancy (a cousin who also had her 5 year old granddaughter in the recital in Jessica's class) than having to try to soothe TJ during it. It sounded like a fine idea, so that's what we did. Nancy and CeCe picked Kelley and I up Saturday night and we headed to the Performing Arts Center to get our girls to their dressing rooms. Then we went around to the front and when the doors opened, we went down and sat on the FRONT ROW! Now I didn't think this would be a bad thing, like sitting on the front row at a movie theater, although Nancy had some hesitancy about sitting so close. But the movie theater is different because the movie takes up a huge screen and you have to lean your head back to enjoy the expanse of it, if you choose to sit on the front row (which at a movie theater, I don't). But I figured this is a stage. The dancers are not 20' tall and I won't be having to lean my head back for a good view of everything. It was actually quite nice sitting on the front row. I was able to see the dancers clearly, and more importantly, take pictures! My aunt asked me how I was able to take such good pictures (I emailed some to her) ...she didn't know I was sitting on the front row! ha ha! So Jen, if you're reading this...that's how I got such good pictures.

Kelley had such a good time. She even wants to do it again when classes start up again in August. Hopefully our finances will allow that. We really struggled to pay each month's $30 since Tommy lost his income back in November. But her teacher has been really gracious and patient with us. We still owe her a little as we got behind these last two months.

I took a video using my digital camera of one of Kelley's routines. I wish I'd had more space/battery power in my camera to take more. But I got some. I do understand there is a DVD of the entire recital so when we have the extra funds, I will try to get a copy of it. It was really a nice performance overall with all the different age groups and styles represented. There was ballet, tap, and jazz dances, classical music, worship music, new age music, and pop music, 3 year olds to 20-something year olds. I really enjoyed most of the routines. Some of the new age dancing the adults/college level students performed was my not my favorite, but I really enjoyed the Praise Dancing the high-school aged students performed. I think it was my favorite and then the children dancing was my next favorite.

I think that's all I have to share for now. I am putting a few things up on eBay to earn a little extra cash. You can search for me as Seller "Karlak" if you care to support my efforts. I also have a place you can click here on my blog under "Where I Roam" in the right hand column. I had a GameCube System up earlier on eBay, but it had a "Buy It Now" price of $49.99 on it and it was bought and paid for hours after I put it up. Wow! Right now there are only three items on my list but I will be adding more over the next few days (weeks?) depending how it goes. So check it out and see if there's anything you would like! And thank you if you do decide to bid on anything.

Ok, shameless plug over. I'll chat to ya'll later!

Meanwhile, here are some pics of the recital to enjoy.... (you can click to enlarge)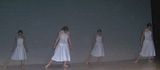 Praise Dancing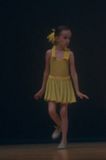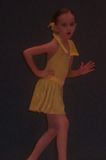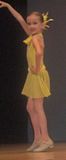 Kelley during her tap routine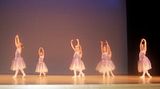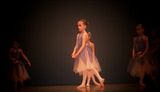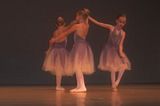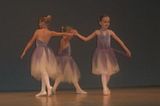 Kelley during her ballet routine
(in the 1st photo, she is in the center front)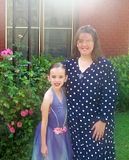 Kelley & Mommy at home before the Recital