My cousin saw a very cute crocheted top on eBay several weeks ago. Knowing that I crochet, she asked me if I could make it for her granddaughter. Well, gee, I've never made a top on my own, without a pattern! But studying the top a little bit, I thought I might be able to figure out how to make something comparable. So here is the Pineapple Top I have been working on the past three days.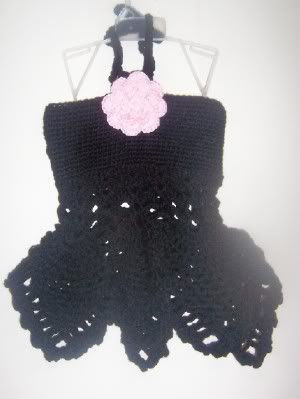 This was my inspiration. So what do you think? Did I come close? There is a pink ribbon that still needs to be woven into the waist of my rendition, but my cousin will be adding that. Now let's just hope it fits the granddaughter...

Sunday night the children went to church for the VBS Finale. They each received a certificate for their participation and then there was food afterwards for everyone and giant air toys for the children to play on. Here are a few pics of their good time.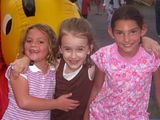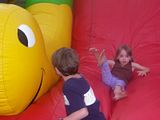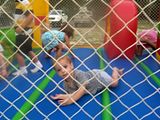 Now that would be Kelley with two friends, Jessica coming down the giant slide, and TJ in the bouncey house. He really enjoyed that, as did Jessica, and they were the last ones to leave it Sunday night. They jumped and bounced and played until it was literally time to deflate the giant toys! It was good to see them play and have such a good time on something new.