Still playing 'catch-up', so here's a few more items I wanted to share. By the way, thank you, Karen, for missing me! I didn't mean to be away from my blog so long, but I'm sure we all know how life can be sometimes.

I made some bookmarks for the Crochet List Bookmark Exchange, specifically for the March exchange to Theresa and the April exchange to Nicole.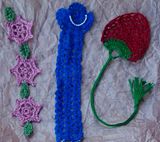 I sent both packages the same day on Tuesday May 2nd, and as of yesterday, the 10th, Theresa still does NOT have her puffy! And I think it might have taken 5 business days for Nicole to receive hers! I have a suggestion for the US Postal Service...if you're not going to deliver 1st Class mail in 2-3 days as you record on all your brochures, then reprint your brochures! Better yet, lower the cost of postage! I'm keeping my fingers crossed for Theresa to receive her puffy soon...I hate to think of someone else enjoying it. I taped it really well, though, anticipating some destruction (see how much confidence I have in our postal service?) so if someone is enjoying it, they opened it on purpose.


For the April CLBMX I received from Nicole this "Getting to Know You" themed puffy.


Nicole loves rubberstamping and is a representative for Stampin' Up! She handmade this lovely card for me and wrote a wonderful note, also sharing a mini-catalog with me. Oh, and not to forget the lovely 3-D flower bookmark she crocheted! I loved this puffy! Thank you again, Nicole!

Postcrossing has struck several times in the past couple of weeks also. But I will have to take a break and post about that next time.

Stay tuned!