A postcard arrived in today's mail via Postcrossing! This is Nuppu's parents' apple tree garden in Germany, a Photo Postcard! And check out the stamp, too!









Also two more squares for Cindi's comfortghan arrived via HMB.



This one is from Kat B. It's a lovely shade of brown that will blend nicely in this turquoise and brown themed afghan.






Next is a square from Paula P. A lovely shade of turquoise. And check out the little silver charm she attached that reads "Hand Made With Love".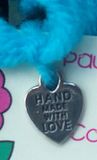 Isn't that a charming touch?