Whew! I'm beat! It's Friday and all I can say is TGIF! I've had an extra child in my house for 4 days, gone and helped with the Kindergarten class in VBS for 2-1/2 hrs. the past 4 nights, and I'm ready for a BREAK! Tonight is the last night of VBS until the Finale Sunday night. And I'm not sure if I am supposed to be watching our cousin next week, or if the regular babysitter has just been off for the week.

Another postcard arrived yesterday via Postcrossing. This one is a hand-made one from Holland.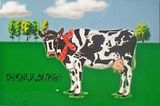 You know,it's funny, but it wasn't until today that I realized it was from Holland. It reads "Holland" on the front but for some reason, I just didn't see it yesterday! But then, yesterday was another day! This postcard is from "Liane" and she tells me she made it herself! Great job, Liane!

Also yesterday, I received the first square for the comfortghan I am making for Cindi, my neighbor, who lost her daughter last week to a single car accident. Now it is believed that the hospital gave the daughter something that she reacted to and killed her. But I don't know the details. However, as a member of Heartmade Blessings, I certainly thought of making a comfortghan, something tangible for Cindi to hold, during her grief. She likes the colors Turquoise and Brown and that is my theme. Kathie Stamps' lovely turquoise square is the first that I've received. I think it's a beautiful color.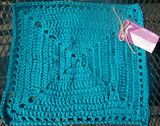 If anyone else wants to contribute to this comfortghan, I'll certainly accept any 12" square you'd like to make. If I receive extras, they'll go to making a comfortghan to "bank". Let me know if you need my address to send a square.

That's all for now. Going to wash some laundry now! Ciao!