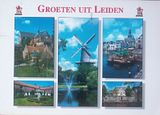 This postcard from The Netherlands arrived today. I love those Dutch windmills. Thank you, Kris!
I was able to mail off several swap items today and I was glad to get ahead a little bit.
This is the bookmark I sent off to Joan Presnell for the June
CLBMX
. She likes the color yellow and this month's theme was a "buggie" one, so I made this butterfly bookmark. I beaded the antennae and put a beaded "angel" at the tail of the bookmark. I loved working with the thread and then with the beads.
I also sent a replacement bookmark to Theresa Gilmer for the March exchange. I was late and didn't get it mailed until May 2, but after a month and a half, and her still not seeing it in her mailbox, I've finally mailed something else to her. It was a strawberry bookmark which I photographed last month here on my blog. As I told her, we can cross our fingers AND our toes that it will arrive this time. I hate that the last one didn't. I purposely taped it up really well so there would be no way any "accident", machine or otherwise, could delay its arrival. At the time, there was a little suspicion as to whether my mail was being sent and received from my local post office. Well, by this time I figure someone else is enjoying that puffy. Unless it's "lost" behind some equipment or something...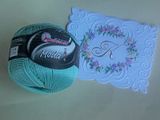 This next picture is what I sent to my spoilee for the
One Skein Secret Pal Swap
. Now, I'm not too worried about her finding my blog and "
discovering
" me because there were over 700 participants! What are the chances, you know??? So I give you a picture of what I sent. It was amazing to me how HARD it was to pick ONE skein of yarn to send to a person. When I initially joined up I thought it'd be so simple. How easy can it be to be required to send only one skein of yarn, over a two month period, and for the third month to send an item made with one skein? Oh my, it isn't as easy as it first seemed to be! I mean, I couldn't decide on the color, the type of yarn... should it be a hank or a ball? There are literally MILLIONS of choices out there of yarns! Which one should I send??? It was strange how difficult I found just sending a ball of yarn to a stranger to be! Has anyone else experienced this indecision, this insecurity, in the One Skein Swap? I just hope I sent her something she will enjoy and not a color or yarn she DETESTS!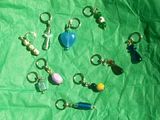 These are knitting stitchmarkers, from the Stitchmarker Swap Robyn began, that I made for my two partners,
Ragan
and Dorre. I really enjoyed working with beads and wire again. My two little girls and I just sat up all night Friday making stitchmarkers. They love to play with the beads and really I think that they just like to do what mommy is doing. Isn't that sweet? I didn't make "sets", or matching, stitchmarkers. I enjoy making them all different. But then, I'm not sure if my partners would rather have them all looking the same.... The two ladies whom I was assigned to made me matching sets. One was all candy themed and then these below were all the same. I love matching sets. I just didn't make them.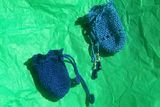 I just had to have a "presentation" for my stitchmarkers, so I made these tiny "treasure pouches". They're about 2" tall by 1" wide with a little drawstring on them. On one of the treasure pouches, I beaded the end of the drawstring. I think it turned out lovely. My little cousin wanted one of the pouches, but I had to let her know these were already promised. I will have to find some pink thread and make her one. And of course I'm sure my girls will want one, too, when they see she got one. And maybe TJ would like one, too! They are awfully cute and simple to make.
Here
is the pattern of inspiration.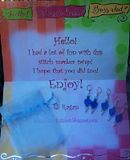 Speaking of stitchmarkers, today's mail brought stitchmarkers from Ragan.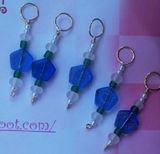 I loved the stationery she used. It's so fun and festive! Click on the picture to see a bigger picture.
And of course I loved the beautiful stitchmarkers. See!
All in all, it was a rather good day for receiving mail, but especially of sending. I sent two bookmark packages off, a postcard for
Postcrossing
, a RAOK to
Juli
(aren't you just giddy with anticipation, Juli?), two stitchmarker sets and pouches to my two partners, and the June
Colorswap
boxie. Now to catch up on my Toy Swap and Kitchen/Bath Swap over at C'ville. I'll be glad to take a break from C'ville swaps when these two are over!
'Til next post...keep stitchin'!